Forming good habits is how we improve ourselves professionally, personally and physically. The 21/90 rule says that you need to commit to a goal for 21 days straight. After these first three weeks of doing the same thing over, you need to commit to the same behaviour for another 90 days. If you can continue to do the same routine for 21 days and then again for another 90 days, you have developed a lifestyle change. What might feel hard in the beginning, gets more comfortable every day when done consistently and then eventually becomes part of your daily routine.
Since the outbreak of the coronavirus, people have taken the call to healthy living and a healthy lifestyle very seriously. We have seen people from every nation start exercising in living rooms and entire apartment blocks doing exercise routines together. We've even witnessed Elisha Nochomovitz run an entire marathon on his 7meter long balcony. We, at Africa Marathons, want this lifestyle shift to continue to grow and gain momentum. Now more than ever, we need to be healthy and taking part in this 21-day challenge will only contribute to this cause.

We're collaborating with our coach, Nick Bester, to come up with a 21-day exercise challenge. As we're trying to put a stop to the spread of the coronavirus, we are all in isolation. Both the United Kingdom and the South African government have implemented a 21-day isolation plan. South Africa starts midnight on Thursday, so when we wake up on the 27th of March, we will start our 21-DAY AM CHALLENGE.
The 21-DAY AM CHALLENGE
When you take the 21-DAY AM CHALLENGE, YOU COMMIT to doing a few things:
I AM committing to staying healthy by following the 21-DAY AM CHALLENGE workout daily during isolation.
I AM committing to an 'a.m.' 'morning' routine. Start your day right, and the rest will fall into place.
I AM committing to doing all that I can to develop great habits during isolation by following the 21/90 rule.
I AM committing to remembering my why when I'm tempted to stop this new habit I'm trying to form. We all have a why we want to do something, and it's during the tough times that we need to remind ourselves of this purpose. For most of us right now it's to build a strong immune system so that if we do come into contact with the coronavirus, our bodies are able to fight it off.
How the 21-DAY AM CHALLENGE Works
So how does the 21-Day Africa Marathons 'AM' Challenge work and how can you enter to win:
Like each day's post from the first one for the next 21 days (follow us on Instagram @africamarathons and @justalilbester, so as not to miss a beat).
Tag a friend each day in the comments section of each account.
Comment with YOUR signature emoji throughout the campaign as an indication that you have completed the challenge.
Added Incentive
You already have your why to motivate you, but we thought we'd incentivize you further with this awesome prize:
A FREE ENTRY into the Cape Town Marathon October 2020 compliments of Africa Marathons.
90-day FREE personal online coaching from Coach Nick Bester to ensure that you see your 21/90 rule right through to the end!
Join us on our 21-DAY AM CHALLENGE and stand the chance of winning awesome prizes all while staying healthy during this challenging time.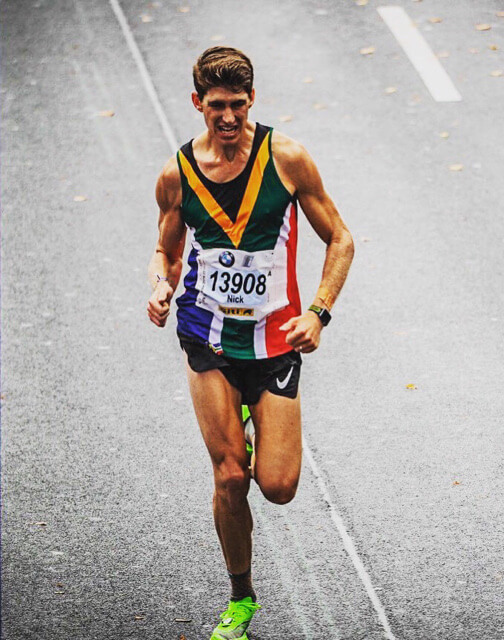 Nick Bester
Africa Marathons Online Coach
Nick is currently a 29-year old South African runner living in London where he's been based for the last 3 years.
He initially got into running by committing to do the Comrades Marathon in 2014. After finishing in a time of 7h 14min and managing to get a silver medal in his first Comrades (down run), he wanted to train a little harder and have one more years' experience to tackle the Comrades Marathon (up run). He took this challenge on and completed his second Comrades (up run) in a time of 6h 58min. The challenge wasn't over and he knew he could get faster so he was back the following year (down run) and finished in a time of 6h 28min, finishing 73rd overall.
Comrades is in his blood and Nick is planning to be back to run the 100th year run in 2021. He has completed many other international marathons and is aiming for the Abbots Medal by completing all six majors.
His last 23 marathons have all been sub-3 hours with his most recent Berlin Marathon finish a very respectable 2h 29min. You can catch all his running tips and coaching insights right here on Africa Marathons or visit his website on Just a little Bester. He's excited and looking forward to working with the Africa Marathons team on achieving each runner's goals. Feel free to email him on [email protected].