We trust everyone has gotten off to a flying start this year with resolutions and that you have all your goals for 2023. One thing is sure, we are always looking to improve our results and performance, whether we are seasoned runners or getting off the couch for the first time. What better way than to get some tips from a top performer and coach?
Do you have goals for starting running in 2023?
Our Africa Marathons Coach, Nick Bester has created a quick video on his Top 3 Tips for how to start running in 2023. Check out the video below.
Before we get into the video, if you don't know our coach, we would love to introduce him to you…
About our Coach
Nick is a South African runner living in London. He is a full-time coach and we are proud to have Nick on board as our Africa Marathons Coach.
He initially got into running by committing to do the Comrades Marathon in 2014. After finishing in a time of 7h 14min and managing to get a silver medal in his first Comrades (down run), he wanted to train a little harder and have one more year's experience to tackle the Comrades Marathon (up run). He took this challenge on and completed his second Comrades (up run) in a time of 6h 58min. The challenge wasn't over and he knew he could get faster so he was back the following year (down run) and finished in a time of 6h 28min, finishing 73rd overall.
Comrades is in his blood and Nick is planning to be back to run Comrades in 2023. He was part of Team Africa Marathons' Comrades 2022 team and helped all 33 of our runners complete the race under the 12-hour cut-off!
A quick video recap
Tips for New Runners:

1. Commit to a Race (we have 6 incredible marathons that we can start you off with)
2. Focus on the variables around running i.e., sleeping and nutrition
3. Add some structure to your training

Check out the video above for more info on these tips.
2023 Marathons to commit to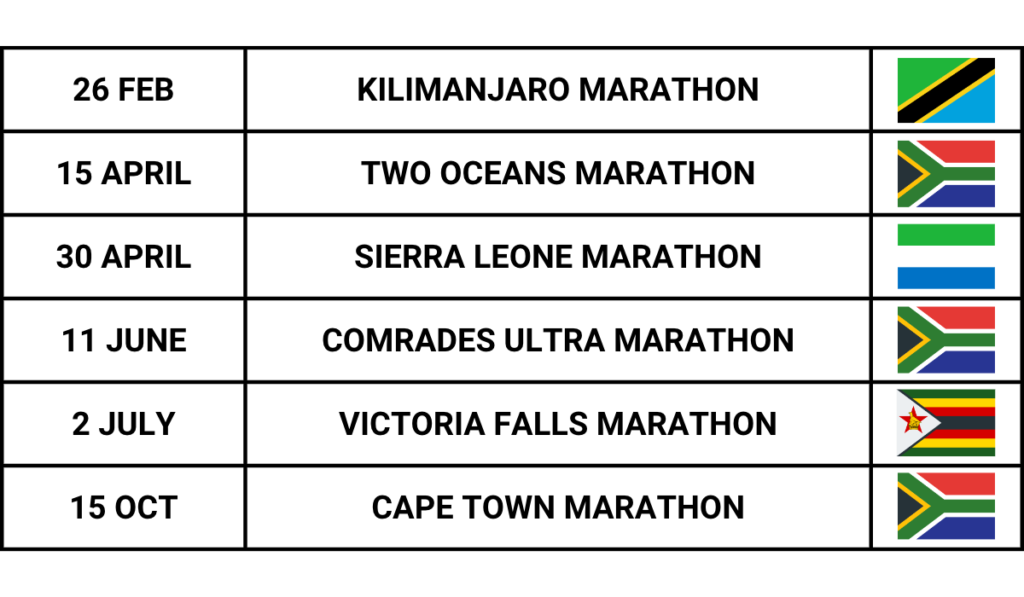 ---
Contact us & join team Africa Marathons!
Let Africa Marathons organise your trip and entry to any of these iconic marathons. To find out more and to enter one of these races:
Email us at: [email protected]
Call or WhatsApp: +44 7791 360170 (Rob)
Call or WhatsApp: +44 7809 726266 (Clyde)
You can also contact us on the button below to join. We look forward to welcoming you to Africa.
---