Many of us are currently finding ourselves in lockdown, so our African Marathon's coach, Nick Bester, shows us his favourite morning exercise routine to keep active and supple.

Nick's morning exercise routine helps him achieve top form

Our coach, Nick Bester, is currently on top form! In case you missed it, Nick ran his best half marathon at the London Big Half on the 1st of March 2020 in less than 70 mins – 69:41. Merely one week later, Nick ran the Saucony Cambridge Half Marathon at an average pace of 3:16 per km, which gave him a time of 68:49 and the 7th position overall. The recent cancelling of races has been a significant blow to Nick's running year, but he's remained positive, healthy and fit so that he'll be ready for racing when they're in full swing again.
Nick starts each morning with a stretch and exercise routine, which only takes him between 10 and 15 minutes a day. He's kindly made that available to help others improve their running.

Coach Nick's exercise & stretching workout

As runners, we're continually seeking ways in which we can improve and get faster. For the past three years, I've been doing a series of core, strength and stretching exercises every morning. It's a mentally and physically a more comfortable session and has become part of my daily routine, which only takes around 10 – 15 minutes.

Here is the full version of the video with the description of each exercise and amount of reps detailed below (I cut the reps short in this video):
1. Stretch
Seated pose: 15 seconds
Lower back and glute stretch: 15 seconds (each side)
Hip mobility stretch: 15 seconds (each side)
2. Core work
10 x Jack knives (straight arm, straight leg)
10 x Jack knives (bent arm, bent leg)
10 x Jack knives (straight leg only)
3. Core work
10 x Sit-ups
10 x Ab crunches
20 x Russian Twists
10 x Hill taps
4. Stretch
Back rotation both sides
Hamstring stretch: 15 seconds (each side)
5. Strength
10 X Bridge
5 X Bridge (each leg)
6. Stretch
Cat/Cow X 3
Calf Stretch 15 seconds (each leg)
Downward dog/Upward dog X 3
7. Strength
10 x Table extension (each leg/arm)
10 x Laying down table extension (opposite arm/opposite leg)
10 x Laying down table extension (both arms and legs)
10 x Fire Hydrants (each side)
10 x Jump squats
10 x Lunges (each leg)
15 x Calf raises (each leg)
8. Stretch
Quad stretch 15 seconds (each leg)
Hamstring stretch 15 seconds (each leg)
Calf stretch 15 seconds (each leg)
9 x Legs swings (front and back)
Finish and enjoy a well-deserved smoothie.
Here are some optional extras for those feeling up to it:
Foam rolling session
1-minute plank

Runners underestimate the importance of core strength

Having a strong core is essential for the latter part of a race when fatigue kicks in. A strong core allows you to keep your form and maintain your pace. Increased flexibility will enable you to increase your stride. Having a marginally increased stride goes a long way over a marathon.
In peak marathon training, I also incorporate at least two foam rolling sessions a week. Ideally, we would all love to have a full-time physio like Kipchoge but unfortunately, we can't, so we need to do this work ourselves.
Foam rolling is essential for loosening the muscles, allowing them to recover.
After all, it's just 10 – 15 minutes a day which becomes part of your daily routine and goes a very long way in the end!
This is the perfect time to start this 10-15min morning routine. Keep active! Keep running! Keep positive! We're all in this together. We'll get through it.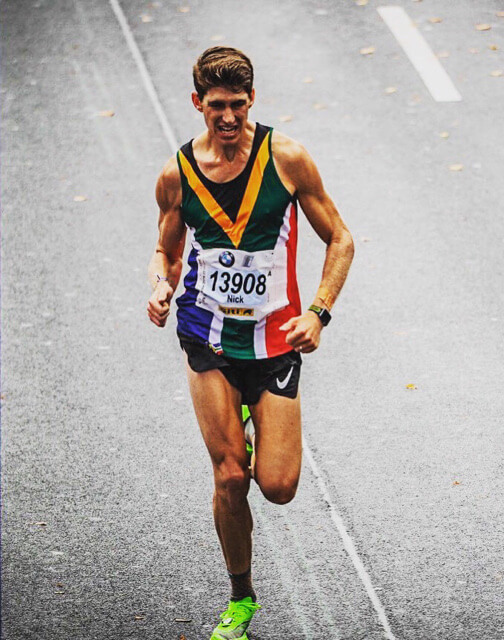 Nick Bester
Africa Marathons Online Coach
Nick is currently a 29-year old South African runner living in London where he's been based for the last 3 years.
He initially got into running by committing to do the Comrades Marathon in 2014. After finishing in a time of 7h 14min and managing to get a silver medal in his first Comrades (down run), he wanted to train a little harder and have one more years' experience to tackle the Comrades Marathon (up run). He took this challenge on and completed his second Comrades (up run) in a time of 6h 58min. The challenge wasn't over and he knew he could get faster so he was back the following year (down run) and finished in a time of 6h 28min, finishing 73rd overall.
Comrades is in his blood and Nick is planning to be back to run the 100th year run in 2021. He has completed many other international marathons and is aiming for the Abbots Medal by completing all six majors.
His last 23 marathons have all been sub-3 hours with his most recent Berlin Marathon finish a very respectable 2h 29min. You can catch all his running tips and coaching insights right here on Africa Marathons or visit his website on Just a little Bester. He's excited and looking forward to working with the Africa Marathons team on achieving each runner's goals. Feel free to email him on [email protected].