Thirty-nine men have run their way towards winning the Two Oceans Marathon title since the inception of the event in 1970. We've identified a few that stand out as the 'greatest' in the history of the event so far.
Two Oceans Ultra Marathon Golden Man – Gabashane Vincent Rakabaele (1976 & 1979)
With seven Two Oceans Ultra Marathon, gold medals, Gabashane stands out as one the best the event has seen. In 1975, the Two Oceans Marathon opened up to all races and women, and in 1976 we saw the first black winner, Lesotho born resident, Gabashane Vincent Rakabaele. Two Oceans Marathon broke down racial barriers. Two Oceans winner, Thulani Sibisi said, "In running, we were all brothers, even in the days of apartheid".
Vincent Rakabaele became the first-ever black runner who officially received a Comrades Marathon medal in 1975. That year's race saw an exciting sprint finish with the second-placed, Alan Robb, finishing only six seconds behind Gabashane. He not only took the win but also broke the course record in a time of 3:18:05.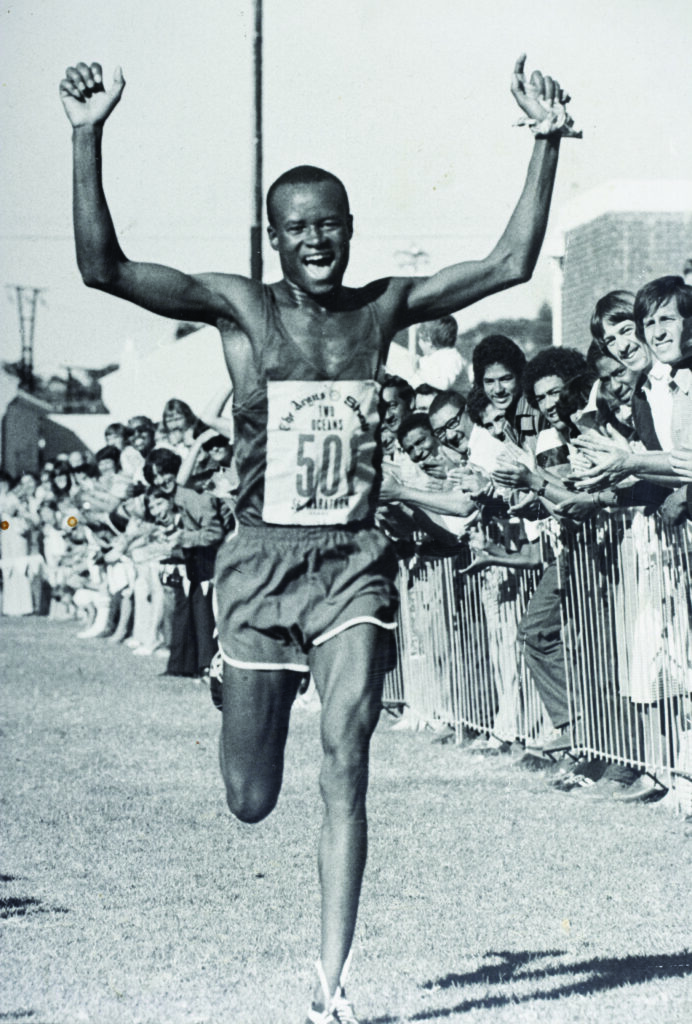 In 1979, Gabashane won the event again, but this time he took nearly 10 mins off his previous winning time finishing in 3:08:56.
Throughout his running career, Gabashane accumulated 12 Two Oceans Marathon medals of which ten were gold for a top ten finish. In 1975, he also became the first black runner to finish the Comrades Marathon officially, and in 1976, he became the first to earn a Comrades gold medal. Gabashane also represented Lesotho at the Olympics and Commonwealth Games.
Siphiwe Gqele (1983, 1984, 1985)
In 1985, Siphiwe Gqele became the first man to win for three consecutive years. He still holds this title.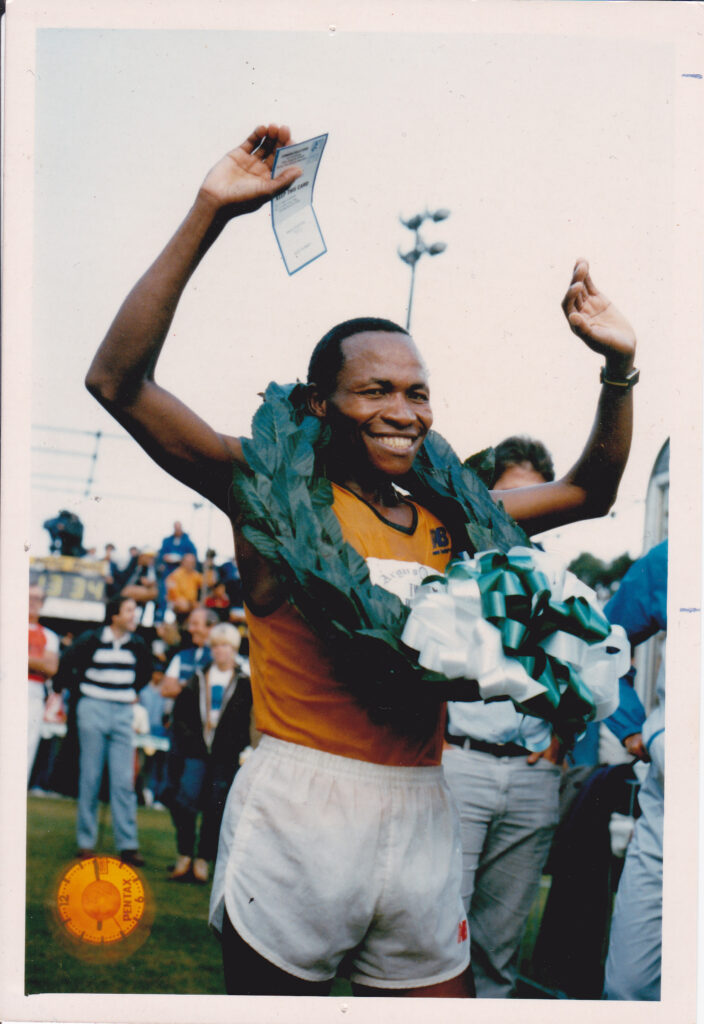 He was a tactical runner as he used to stay just behind the leaders until halfway, then he'd begin his charge on Chapman's Peak and use his climbing strength on Constantia Nek. He still had to work hard for his wins though, which can be seen in him winning just four seconds ahead of Warwick Ewers in 1983 and then in 1984, 35 seconds ahead of Hoseah Tjale.
Siphiwe ran eight sub 2:20 marathons during his career and finished 10th in the Comrades Marathon in 1987.
Thompson Magawana (1987 & 1988)
It's been said that it is hard to imagine that there will ever be another athlete quite like Thompson Magawana. His incredible running accomplishments started with him breaking the course record by six seconds in 1987. The following year, Magawana, retained his title, and smashed his previous record by three minutes, and set a new course record that is still unbeaten today.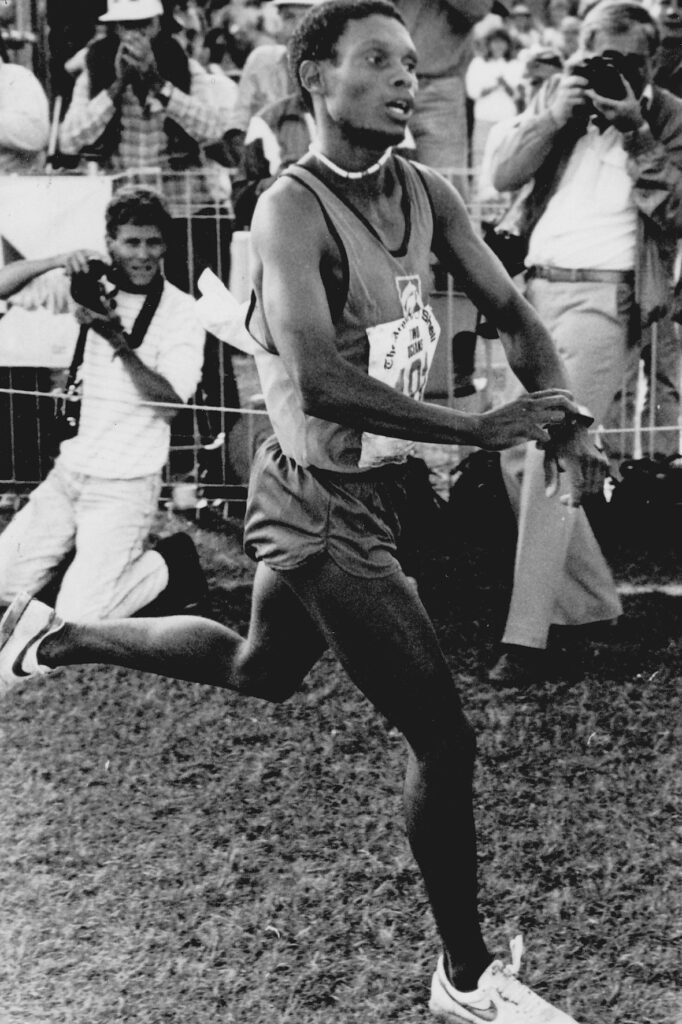 Magawana won the SA Marathon title in 1980 and finished an astonishing 18 sub-2:20 marathons in his career. He finished 3rd in the 1992 Two Oceans Marathon and 15th in the Comrades Marathon the same year.
Willie Mtolo (1990)
The legendary, Willie Mtolo is considered as one of South Africa's greatest road runners. His childhood is believed to have played a part in his running success. Willie is one of ten kids, who grew up together in the Underberg. Willie and his siblings walked to and from school every day. This meant that from Monday to Friday, Willie walked 32km each day. "My dad was working for a farmer. He could not afford to buy us bikes. We woke up at 4:30 and started walking at 6:00. We got to school at 8:00 and in the afternoon, it was the same story. I believe this walking physically helped me in my later years."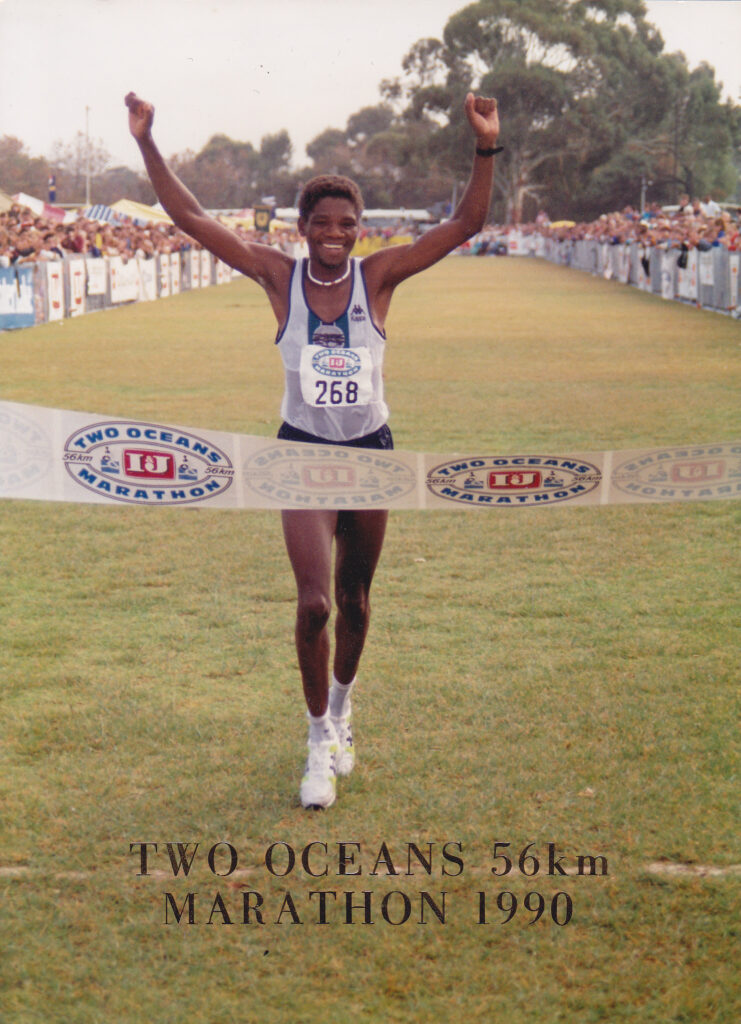 Between 1985 and 1987, he was the runner-up in the South African Marathon Championships, three years in a row. He finally won in 1988 and set a new course record. In 1989, he managed to retain his title.
He ran his first Comrades Marathon at the age of 19 and finished 23rd overall. Then in 1989 he finished Comrades Marathon second and then went on to win Two Oceans Marathon in 1990.
The next time he saw the Two Oceans Ultra Marathon was in 2002, 12 years after his win, and he still managed to place 3rd. 
Zithulele Sinqe (1996 & 1997)
Sinqe is another all-time great South African runner. He was one of South Africa's greatest marathon runners in the 1980's, which was considered the golden age of South African road running.
His most notable achievement was seen in him winning the South African Championships in 1986 in 2:08:04, which at the time was the 4th fastest marathon time ever run in the world.
Having represented South Africa in the 1992 Olympic Marathon, he started running Ultra-marathons.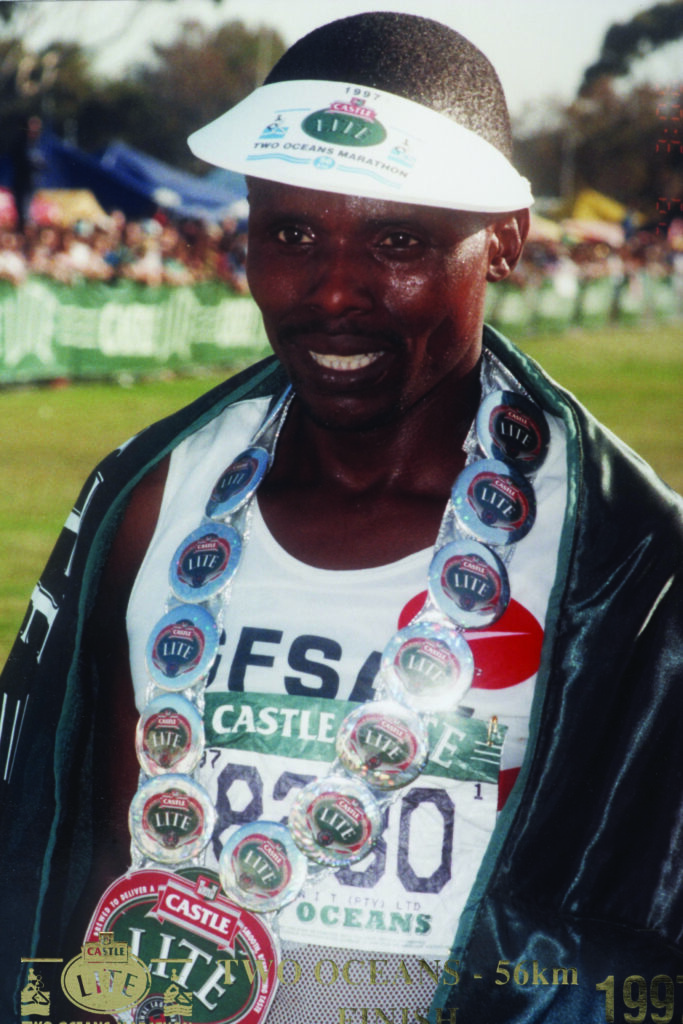 In 1996 and 1997, Sinqe won the Two Oceans Marathon, and in 1998 he placed second. He also placed 4th place in the 1997 Comrades Marathon.
Marko Mambo (2004, 2005 & 2008)
Mambo, is the second person who has managed to win the Two Oceans Marathon three times (Siphiwe won three as well, but his wins were consecutive). Amazingly the Zimbabwean won the race during his debut run. He then retained his title in 2005 and then won his last Two Oceans in 2008.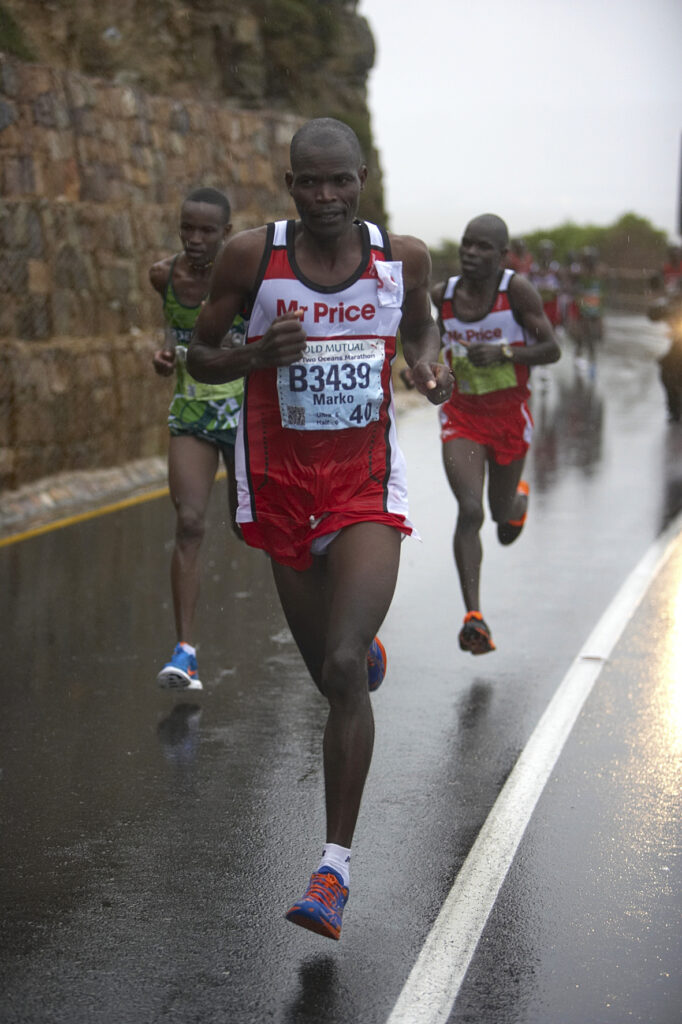 Despite over two decades of high-level competition, Mambo views 2005 as his best year and most successful season. Mambo said, "The year 2005 was the year I won my first Two Oceans race and finished in respectable positions in the Dublin Marathon (fifth) and Mumbai Marathon (seventh)."
"I also clocked my best time at the Two Oceans Marathon, finishing with a time of three hours, five minutes and 39 seconds," he said. Much of his acclaim revolves around the Two Oceans Marathon.
In 2018, Mambo added a second Comrades Marathon gold medal to his collection.
Stephen Muzhingi (2012)
Zimbabwean, Muzhingi, began his career as a long-distance runner in 2008 when he participated in the Comrades Marathon Race and came third in the competition. He is one of 3 men to win both the Two Oceans Ultra Marathon and the Comrades Marathon. He won the Comrades Marathon three times consecutively from 2009 till 2011, then added the Two Oceans Marathon title in 2012.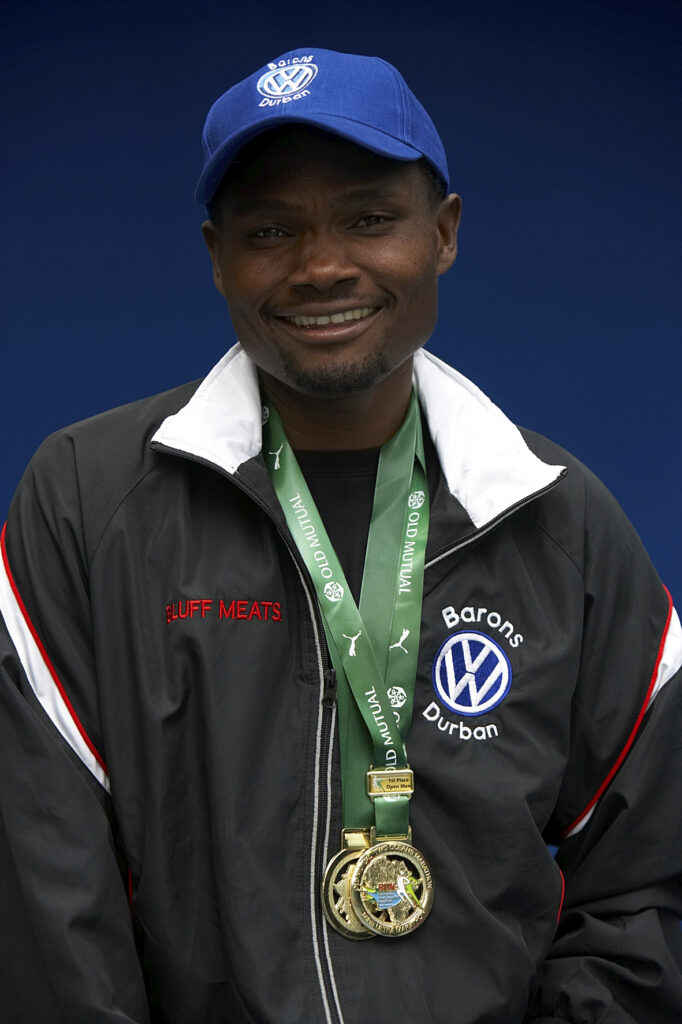 The 2020 Two Oceans Marathon race was cancelled, but we are expecting a fantastic event next year. Let us know if you want to be a part of the action. We arrange trips and see everything from your entry to accommodation and travel.
Thank you to the Two Oceans Marathon & Sean Falconer for these wonderful insights.