Gemma enjoyed a Cape Town City Running Tour with Run Cape Town recently, and this is her experience.
An early start for the Cape Town City Running Tour
On a recent trip to Cape Town, bright and early one morning, I was greeted at my hotel by Andy, who was my running tour guide from Run Cape Town. From there we departed on a fantastic run around Cape Town, where I took in some incredible sights and learnt lots about the city.
Explore the history of Cape Town
The first part on our tour took us to the historical area of Cape Town. I was excited about running there as I hadn't visited this area of Cape Town before. Firstly, we stopped at Cape Town City Hall, which was a beautiful building and steeped full of history. There, Nelson Mandela had made his first speech after his release from prison on the balcony on 11th February 1990. Of course, I had to have a walk up the steps and join Mandela in greeting the crowd.
We then ran on, and our next stop took us to the Company's Garden, which is the oldest garden in South Africa. These beautiful gardens, a sanctuary in the middle of the city, was originally created in 1650 by the region's first European settlers and provided fertile ground to grow fresh produce for the ships docking in the Cape.
The Bo-Kaap is a magical place
After Andy having shared interesting information about the garden, with the stunning views of Table Mountain in the background, we ran on to the colourful and very distinct neighbourhood of Bo-Kaap. Situated on the foot of Signal Hill, as Andy explained to me, originates back to the 1760s when numerous rental houses were built and leased to slaves. These people were known as Cape Malays and brought from Malaysia, Indonesia and the rest of Africa to work in the Cape. I absolutely loved the rows of colourful houses on the steep cobbled roads, which made for a good bit of hill training too! I also found out that the houses were originally painted white, but when the slaves were able to purchase the properties for themselves they painted them in bright colours to signify and express their freedom.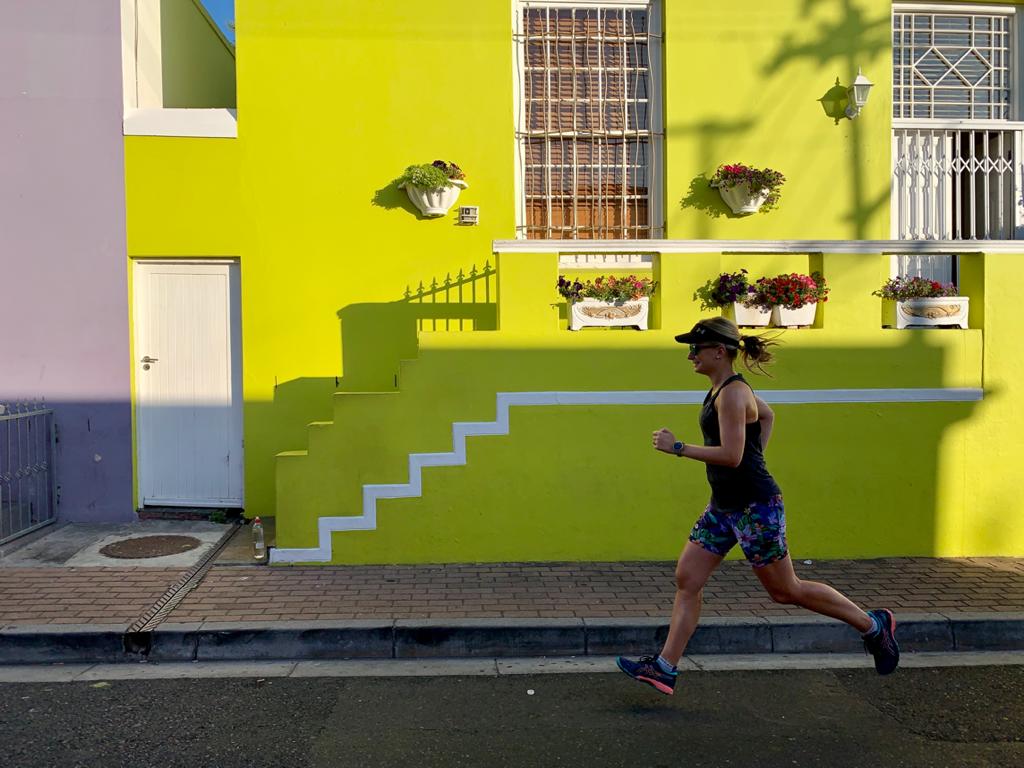 Mouille Point & Green Point are a favourite among Cape Town runners
We then ran through the city in the direction of Green Point Park, passing the Cape Town Stadium. This brought back the memories of the Cape Town Marathon 10k I ran last year where I achieved my personal best time! Green Point Park was a beautiful park with magnificent views of Lions Head behind the lush green lawns.
Next up, we hit the coastal path of Mouille Point, and I absolutely loved running along the promenade taking in the views of the beautiful blue Atlantic Ocean. Again this reminded me of the Cape Town 10k as this formed part of the route. We continued along to the coastal path towards the Victoria and Alfred (V&A) Waterfront where we paused for a water and snack. As we looked out across the bay, we were thrilled to spot a Whale! Not something I get to see very often on my runs in KZN, so it was pretty special!
The V&A Waterfront a tourist hotspot
We then ran through the V&A Waterfront, which was very quiet and different from what I have previously experienced during the buzz of the day. While we were on a roll with sea wildlife spotting, we also saw Sea Lions having fun in the water!
We then ran back to my hotel, which finished off an amazing 10kms of running and sightseeing through Cape Town. Cape Town really is an incredible city with its history, incredible views, wildlife, beaches and of course fantastic weather. And thanks to Andy, he had shown off this city to me in the best possible way, on foot! Thank you, Andy and Run Cape Town for another fantastic running tour in the Mother City. I'm sure I'll be back again soon and no doubt booking another trip!