With Comrades Marathon being less than five months away and with our entries selling like hotcakes, we suggest you get signed up TODAY! Why have so many people opted to run Comrades Marathon 2020 with the preferred Comrades Marathon travel partner, Africa Marathons? The most obvious reason is that we understand how daunting running 90.2km is, being runners ourselves. Our mission is to let you worry about one thing and one thing only, running 90.2km. We take care of all the rest! Have a look at all that we have to offer.
The Africa Marathons TEAM SPIRIT
If you speak to any Comrades finisher, they say you have to run Comrades at least once in your life, not for the finisher medal and the bragging rights of running this epic event but for the camaraderie. The 'spirit of Comrades' since the inaugural event in 1921, has never been matched by any other marathon of it's kind. The support of those running alongside you and others en-route that you've never seen before, speaks to humanity's love for another no matter what gender, race or religion, will forever leave a mark on your life.
Africa Marathons share in this 'Comrades Spirit' by being there through the entire journey with you from your entry to preparing you for both the travel to South Africa, the actual Comrades event and everything in between. We know that sharing this event with others enhances your memories so we plan on sharing all the pre- and post-race experiences as one. As Team Africa Marathons.
1. Africa Marathons Strava Group
We have an Africa Marathons group on Strava that we encourage our Comrades runners to join. The idea is that we encourage one another to get in that extra miles as we see fellow runners clocking some serious distance. We've added Comrades Marathon as an event to the group. We encourage you to join that too to see where you place in the team after the last team member crosses the Comrades finish line.
2. Africa Marathons WhatsApp Group
The Africa Marathons Comrades Private WhatsApp group is available for all those that have entered Comrades as a part of the Africa Marathons Team. The purpose of this group is to encourage one another leading up to the event. We will continue to use email as our primary form of communication but we'll use our WhatsApp group as a means of encouragement and to get to know the team before we meet in South Africa.
ACCOMMODATION with Africa Marathons
Our five-night package means all of our runners will be staying together and we have teamed up with our partner hotels to offer fantastic accommodation, great locations and a few extras too.
1. Protea Hotel by Marriott (Umhlanga Rocks – Durban)
The first two nights will be in the luxurious Protea Hotel by Marriott in Umhlanga. The rooms are all well equipped with air conditioning and comfy beds, allowing for a crucial good night's sleep. Located in the heart of Umhlanga village, with numerous bars and restaurants and the beautiful Umhlanga beach on the doorstep, there is plenty to do during your stay. If you'd like to spend your time relaxing in the build-up to the Comrades Marathon, you can do so in the hotel swimming pool or on the beach as the weather in Durban in June is often warm and sunny.
2. ANEW Hilton Hotel (Pietermaritzburg)
The third night of the Africa Marathons Package will be spent at the ANEW Hilton Hotel, which is just a short drive from the Comrades Marathon start line. The hotel is set in a peaceful location and has very quiet rooms, making it the perfect place to stay for a good sleep the night before the race. The hotel is luxurious and stylishly decorated and serves high-quality food.
This is where we will have our private Africa Marathons dinner where there will be plenty of pasta and other carb-loading food available. On the morning of the race, breakfast will be served from 2 am, leaving plenty of time to eat before departing for the race start. It will be continental style, with various breads, porridge, bananas and other pre-race choices available. You will also be able to get a take-away breakfast should you so wish. The chef at ANEW Hilton will gladly assist us if there are any special pre-race food requirements.
3. Protea Hotel by Marriott (Umhlanga Rocks – Durban)
The remaining two nights of the Africa Marathons Package will be back at the Protea Hotel Umhlanga, which is the perfect base for post-race celebrations and a gorgeous pool to relax those tired legs.
Throughout your stay there will be an Africa Marathons representative available at all times should you have any questions or problems that you require assistance with.
TRAVEL with Africa Marathons
All your travel needs will be taken care of during your stay. You'll be picked up from the airport, taken to and from the race expo, brought to the start line and back to the hotel after the race. Your bags will also be transported back to the Protea Hotel after you depart to run on race day so that you will have them on your return. All of this means you can relax knowing that everything will be taken care of and all you'll need to worry about is running on the day. All of this means you'll be travelling with the other Africa Marathons runners, allowing you to experience all aspects of the trip as a team and sharing experiences.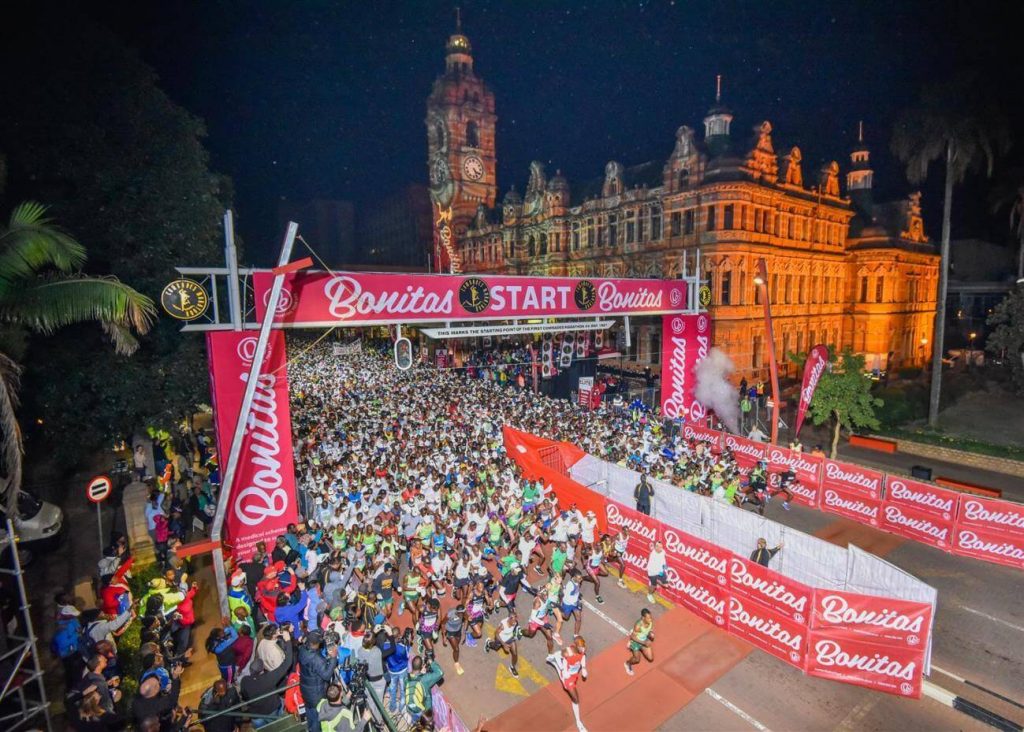 PRE-RACE with Africa Marathons
There are several things that we arrange specifically for our Africa Marathons Team in preparation for the big day.
The race expo is a really special time, which we get to experience as a team. Don't forget to get that all-important Comrades expo selfie, as you'll be seeing it pop up all over your Instagram feed for three months post Comrades.
The morning before the Comrades Marathon, we expect that many of you may want to do a small shake-out run. Just moments away from the hotel along beautiful Umhlanga Beach promenade, is a Parkrun like no other, the Umhlanga Parkrun. The Africa Marathons team will be participating in this run together, alongside many other Comrades runners. It will be one of the most vibrant and exciting Parkruns you'll ever do.
The night before the Comrades Marathon, we have organised a private pasta and buffet dinner for our runners. It will be a great way to carbo-load together and share your emotions in the build-up to the race in the comfort and privacy of our own dining area. Special arrangements can also be made for those with specific dietary requirements.
RACE DAY with Africa Marathons
On the big day, after an early breakfast, you'll be driven to the start line together. We recommend packing some extra layers you are happy to dispose of before the race begins as June in Pietermaritzburg is cold, especially early in the morning.
Once you set off on the epic Comrades Marathon 2020 experience, you'll have some well-deserved support along the course from the Africa Marathons Team. We will be setting up cheer points with Africa Marathons banners, so you'll be able to spot us without a problem, and we promise to be the loudest spectators on the course! We'll also be keeping an eye out for each of you.
POST-RACE Celebrations
An incredible race and even greater achievement, yours, deserves a huge celebration. We'll be putting on a post-race party for team Africa Marathons to enjoy!
If you'd like to extend your trip while in South Africa after the Comrades Marathon, we can book this too. There are numerous game reserves near Durban so what better way to further celebrate your achievement than by going on Safari?
SUPPORTERS with Africa Marathons
If you have a partner, family member or friend joining you on the trip, we will cater to them too and ensure that they have a fantastic experience as a supporter. On race day, they can join you for the early breakfast or eat a bit later if they'd prefer. We will then arrange transport to take them to our support points along the route. That way they have no travel issues to worry about and they can also be part of the essential Africa Marathons support team. Later during the race, they will be taken to the finish so they can join you and the rest of team Africa Marathons in your post-race celebrations!
We would love you to join team African Marathons in what is going to be the race and trip of a lifetime. There's an African proverb that says 'If you want to run fast, run alone. If you want to run far, run together.' Run far with Africa Marathons and enjoy every moment of this life-changing experience.
If you are interested in running the Comrades Marathon 2020, we still have a few packages available, which included race entry. You can contact us on [email protected] or take a look at our packages here or ring us on +44 1932 361807 (UK) +1 844 390 1798 (USA) +44 (0)7791360170 (Rob).