With the entries to the Comrades Marathon 2020 opening in just a few weeks, it's time to get planning, so let's begin by guiding you on how to best get your Comrades Marathon Entry 2020 in and secured with Africa Marathons, your official Comrades Marathon Tour Operator.
It is well known how popular running the Comrades Marathon is, so it's no surprise that obtaining that elusive entry can be competitive. In 2019, entries sold out within four days, so if you are hoping to run the Comrades Marathon in 2020, you'll need to be quick! The entry cap for the 2020 race has been set at 27 500, with only 2500 entries going to international runners and 7000 for novices; there are no extensions to this. Entries officially close on 30th November 2019, but it is very likely the cap will be reached before this date.
Best ways to secure your Comrades Marathon Entry 2020
When the Comrades Marathon entries open on 28th October 2019, there are a number of ways you can enter:
Directly through Africa Marathons
We are pleased to announce that Africa Marathons have been appointed as The Official Comrades Tour Operator for Comrades Marathon 2020. This means we have guaranteed international places (subject to achieving the qualifying time required). This is welcoming news to the many runners who may struggle to obtain a place on the Comrades website or via the post.

Comrades Marathon Website
You can also enter online on the Comrades Website from 8 am (7 am GMT) on 28th October 2019. A credit or debit card is required to secure this payment.

Postal Entry
Post your entry to Comrades Marathon, PO Box 100621, Scottsville, 3209, South Africa. You may enter using one of the following options, either by cheque, EFT or direct deposit. All cheques, EFT's and direct deposits must be made payable to the Comrades Marathon Association. We do not recommend this method as it will reach the CMA too late.
What does Africa Marathons offer you?
Booking your Comrades 2020 entry and trip with us means we do all the work for you. We are a specialist Africa Travel Company, so not only do we organise your race entry, but we also book your entire trip for you, so you can sit back and enjoy the experience to its fullest.
We are offering a five-night package from 11th June- 16th June 2020, with the race taking place on 14th June 2020. This package includes international flights, local travel, accommodation, activities and of course entry to The Comrades Marathon 2020.
We have specifically considered the needs of our athletes running Comrades 2020, the down run, so we provide accommodation the night before the race near Pietermaritzburg (where the race starts), including transfers from the hotel to the start. This way you'll get some precious extra sleep the night before the race and you can relax in knowing getting to the start is taken care of. The other 4 nights will be spent in beautiful Umhlanga, conveniently located near the beach, bars and restaurants.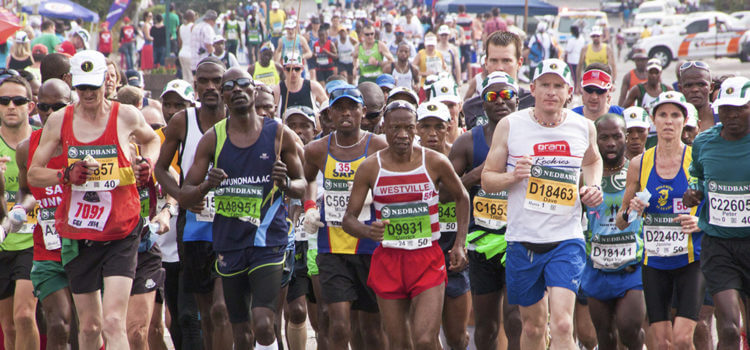 More benefits of booking your Comrades 2020 with Africa Marathons
One of the other benefits we see of booking the Comrades 2020 package with us is that you will be part of team "Africa Marathons". There will be the support of your fellow runners, and you'll be able to recognize them as you will be provided with an Africa Marathons team kit to wear. We have appointed members of staff who will be there during your trip to help with anything required. And the day after the Comrades Marathon, we'll be hosting a well-earned celebratory dinner for the Africa Marathons athletes and partners.
If you'd like to extend your stay in Kwa-Zulu Natal or South Africa beyond the five nights, we can also book you into safari and beach lodges, to make your trip extra special.
So in view of all of this, if you sign up for Comrades 2020 with Africa Marathons, all you'll need to worry about is your training and running on the big day and we're sure it will be a trip of a lifetime.
If you'd like further information on a Comrades Marathon Entry 2020 or to book a place with us, please email us on [email protected].
There is also further information on the Comrades Marathon as well as Comrades Marathon 2020 information. Take a look at our great Comrades 2020 package.