Gerda Steyn (Credit: Two Oceans Marathon)
Out of the 29 women's Two Oceans 56km Ultra Marathon winners, it wasn't easy to pick a few highlights. We've managed to select a few champions that stood out over the course of half a century of racing this iconic event.
Beverley Malan – The First Two Oceans Marathon Women's Winner
Beverley Malan (Bev) was the first woman to complete the Two Oceans Marathon Ultra in under 4 hours and record three wins (1982, 1983 & 1985).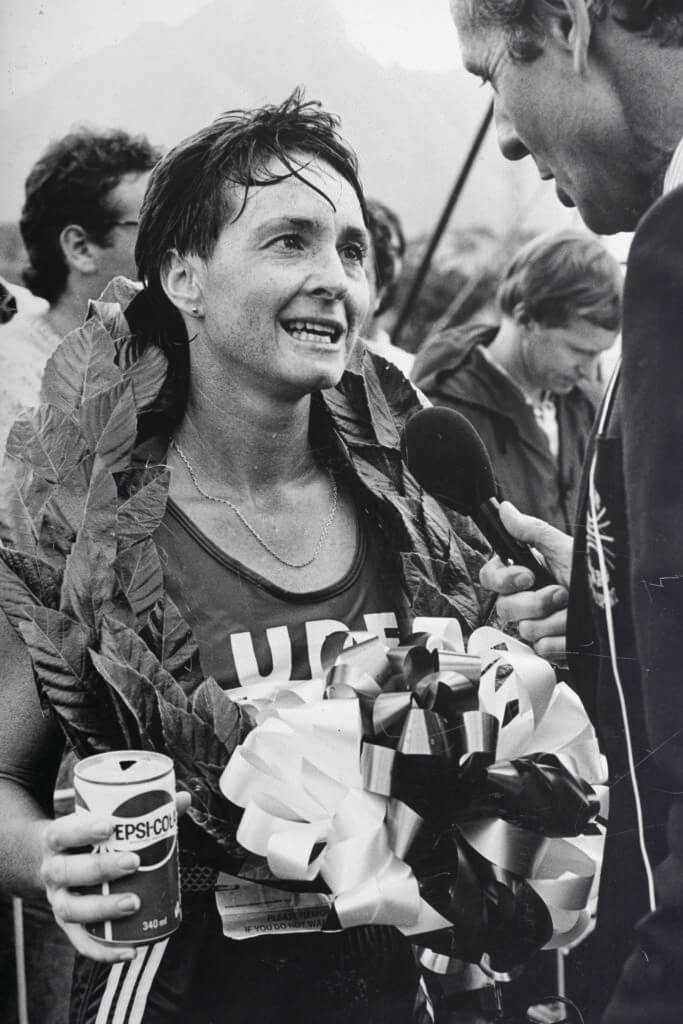 In 1969, Bev made her first mark in running when she joined the SA women's team for the 1969 International Cross Country Championship in Scotland. She was then awarded her Springbok colours when she finished second at the SA Cross Country Championship.
After moving to road running, Bev won the SA Marathon title in 1982, which was only weeks before her first Two Oceans Marathon win.
Monica Drögemöller
Monica Drögemöller became the first woman to win four times (1988, 1990, 1991 & 1992). She won every Two Oceans Marathon race that she started. This record of four wins was finally equalled in 2012 by Elena Nurgalieva.
Frith van der Merwe
In 1989 Frith van der Merwe finished 22nd overall, in a blistering time of 3:30:36. This record still stands today. After injury issues and losing her husband in 1993, she eventually returned to running and completing the Two Oceans Marathon again in 1997 and 1999.
In 1989, Frith retained her women's title at Comrades Marathon by finishing 15th overall and she became the first woman to finish under six hours (5:54:43). She's arguably, the greatest ultra-athlete South Africa has ever produced.
Angelina Sephooa
Lesotho's, Angelina Sephooa, was one of Africa's best female ultra-marathon runners. She was known for using tactical acumen to defeat runners thought to be fast. Angelina was the second woman to achieve three consecutive Two Oceans Marathon wins.
Elena and Olesya Nurgalieva
These twins worked in tandem to wear down opponents. Together they had a period of dominance in road running races in South Africa.
Elena won two races (2003 & 2015) while Olesya claimed 3 wins (2008, 2010 & 2011).
Caroline Wöstmann
In 2013, Caroline Wöstmann finished 89th at the Two Oceans Marathon, which meant that she was not given much chance to go for gold in 2015's race. She surprised everyone though by taking the win.
In 2016, when she returned to race the Two oceans Marathon, she was instructed not to push too hard given that Comrades was closer than usual. She managed to pull off a second-place finish.
Gerda Steyn – Current Two Oceans Marathon Champion
The current queen of South Africa's road running, Gerda Steyn, is expected to break the now 31-year-old women's record at Two Oceans very soon, after her incredible win in 2019. This was Gerda's second Two Oceans Marathon win. She came in at 3:31:29, which is just 52 seconds off Frith van der Merwe's long-standing 1989 course record. This is incredible considering that the route change in 2019 included the longer Ou Kaapse Weg course. Two months later Gerda became the first woman to finish the Comrades Marathon Up Run in under 6 hours.
We're excited to see Gerda Steyn perform at Two Oceans Marathon 2021. Let us know if you too want to be a part of what could be a momentous event. We arrange trips and see to everything from your entry to accommodation and travel.