Team Africa Marathons has been busy!
We are just over 2 months away from the biggest running event on the African continent – The Comrades Marathon and our team is getting pumped for their departure to South Africa.
In anticipation of the big day, we thought we would share what the team has been up to in preparation for the race, as well as some of the incredible stories and Comrades memories from the team.
Our team is travelling from 6 countries!
We are excited to announce that we have runners joining us from 6 countries across the globe. They are eagerly training in each of their countries to come together in August in South Africa and race together at The Comrades.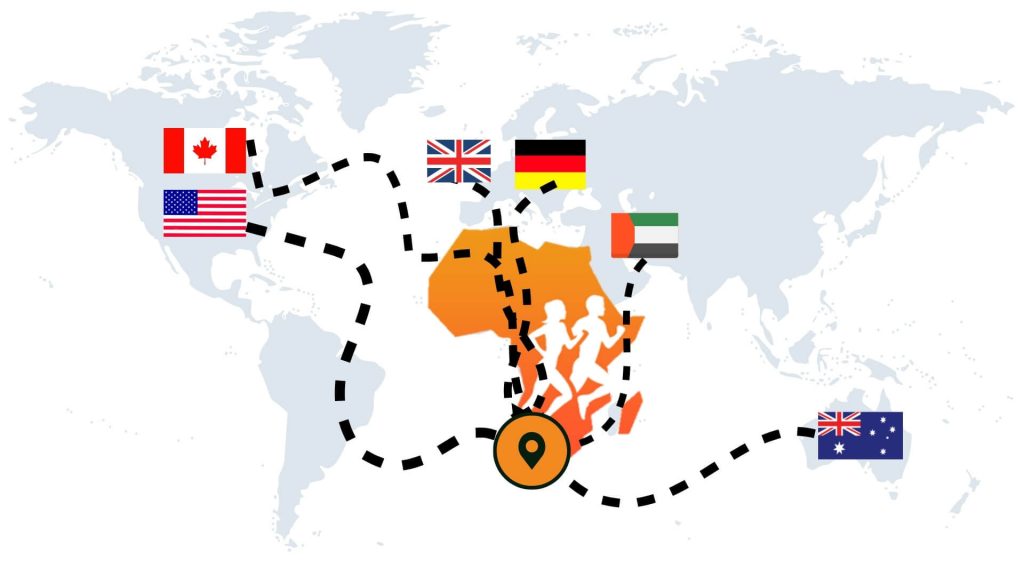 Meeting a true Comrades legend in the flesh!
Rob had the honour of meeting Comrades legend Bruce Fordyce last week at an event where Bruce shared some brilliant stories of the Comrades over the years 🙌🏃‍♂️
Famous for having won the Comrades NINE times, and set 5 records, Bruce is a true running hero who is admired by thousands around the world 🏆
He is also well known for having launched the Park Run concept in Southern Africa which now has over 1 million members!
His passion for running, life, health and wellness is truly admirable, and he is definitely a legend of his time. This was a bucket-list encounter for sure and we cannot wait to see him again with Team Africa Marathons over in Durban in 2 months' time! 🥳
In loving memory of Susie
John, one of the members of Team Africa marathons will be running The Comrades in memory of his late wife Susie. He will be running for the Royal Marsden hospital in Kensington, London for their care and support for Susie for 7 years.
John will also be running for the Royal Marsden hospital at the London Marathon on the 2nd of October.
We are honoured to have John on the team who is so dedicated to making a difference. We know Susie will be so proud of you! Best of luck John!
Chris is joining us from Dubai and his training is in full swing!
He shared these awesome training pics with us. Thanks Chris. We look forward to seeing you soon!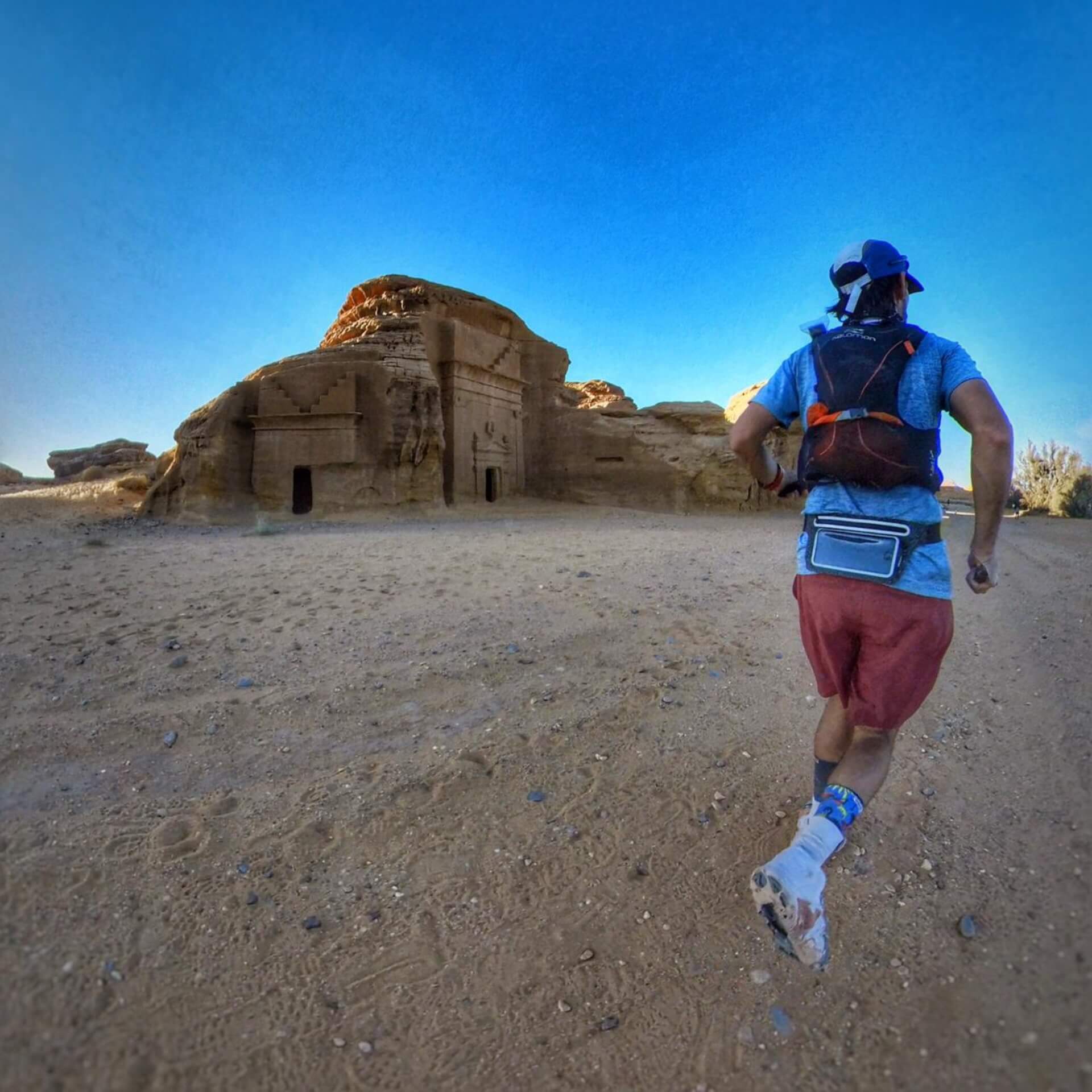 Bibi is including some local marathons in her training for the Comrades. Last weekend she completed the Waterford Viking marathon 🙌 Well done Bibi.
See you in South Africa soon!
A little Comrades throwback
Colin, one of our Africa Marathon team members joining us for the Comrades in 2023, has been running the Comrades for many years. He shared these awesome pics with us from him running the Comrades in 1984. How spectacular to be able to still be running the Comrades almost 40 years later! We can't wait to run with you Colin!
Tony's training is in full swing. He has had the opportunity to explore breathtaking landscapes and unique sightings while getting his miles in.
On the left you can see Phil and Michelle just before Giants Head Marathon last weekend and above was at Hampshire Hoppit a couple of weeks ago. Awesome training!
Andrea loves running. Above she was competing in the Berlin Marathon in 2021 and on the left was at Marathon Hamburg in her hometown in April, with a PB! Well done Andrea, a great achievement!
GAME FACE ON!
Africa Marathons team member Andy is photographed (left) at the Hackney Half earlier this year. We look forward to seeing you in action next month Andy!
Awesome feature in the local paper for Neil Laffoley! Proud to have you on our team!
Steve Hart, one of our Africa Marathons team members shared these awesome pics with us from last year where he ran the London Marathon for his favourite charity – Make-A-Wish UK. We love the outfit Steve, thanks for sharing!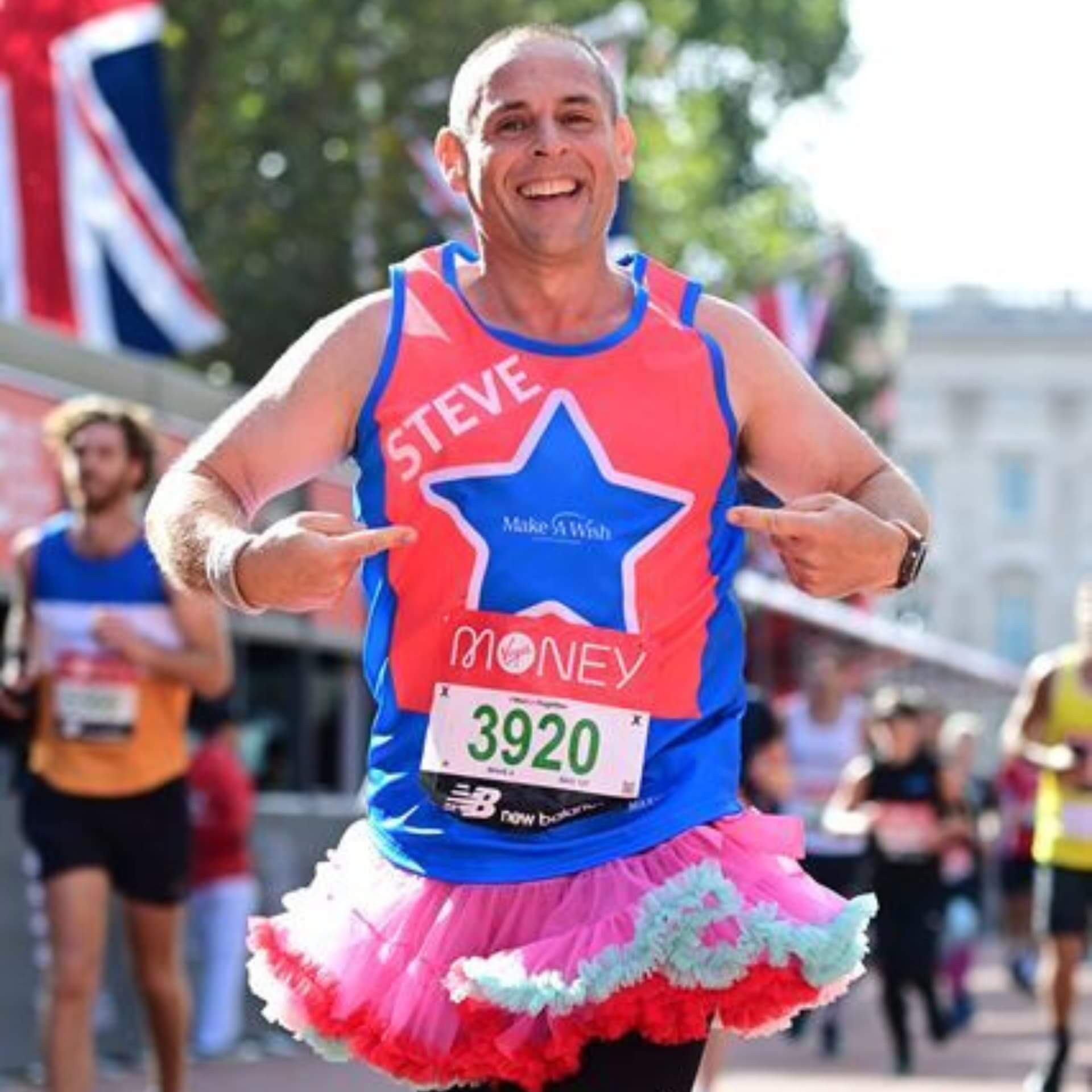 "No matter how difficult the challenge in front of you, it is never stronger than the strength that lies within you!"

Thanks Neil Laffoley for sharing this quote with us that keeps you motivated when running. We love it too!
Want to enter Comrades Marathon 2023?
Let Africa Marathons organise your trip and entry to the iconic Comrades Marathon 2023. To find out more and to enter the race please send us an email at [email protected]. You can also contact us on the button below to enter. We look forward to welcoming you to South Africa.
---