Comrades Marathon 2022 has come and gone but will remain etched in our hearts for a very long time. The trip to Durban from all corners of the globe for Team Africa Marathons was such a wonderful experience. We invite you to experience the Comrades 2022 'Down Run' from the perspective of one of our team members, Jessica Johnson. Jess managed to complete Comrades in a Bill Rowan medal-winning time of 08:14:18, the 71st female runner and 2nd British female runner overall.
Comrades Marathon 2022 by Jessica Johnson
I've wanted to run the Comrades Marathon (actually 2 marathons, a Parkrun and a little more in length!) for several years, however, it's taken a while for me to feel confident enough in my running ability to travel halfway across the world to do the run. Last year I got in touch with Africa Marathons, and soon enough I took the plunge and signed up. It's funny how once you start spending lots of time with people who run silly distances (Camino Ultra – all of you!), it almost seems normal to enter races this length!
Usually, when I enter races, I don't tend to tell many people I'm doing them out of fear that I won't actually finish them, and then having to have some awkward conversations afterwards. However, word got out that I'd entered Comrades, so the pressure was on to actually do some training for it! I don't seem to ever be able to focus on one race, so between signing up for Comrades and actually running it, I've done road marathons, a 3-day ultramarathon, and a couple of single-day races. I've also done a few cross-country races with a very patient and supportive team of women –
I'm sure watching me trying to get out of third gear was fun for everyone who came to watch. However, (Camino Coach) Paula took me under her wing and with her coaching experience – and maybe a touch of magic – got me in shape for a 90km relentlessly hilly road race, which was the Comrades.
The Comrades Marathon Course
The 2022 Comrades Marathon was a 90km down run from Pietermaritzburg Town Hall to the Moses Mabhida Stadium in Durban. Of course, at first, I assumed this meant it was going to be easy, and I could effectively skip my way from start to finish. Unfortunately, the down run has around 1200m of elevation gain, predominately in the first 50km of the race. This is followed by a significant downhill, which is well known for punishing those who are far too overconfident.
The race starts at 5:30 am, so the first of these hills is in the dark, with the sun rising as you move towards Durban. It's definitely known as the "Valley of a Thousand Hills" for a reason – we seemed to go up every single one of them.
Race Day
I'd travelled to Umhlanga, just north of Durban a few days before the race with the Africa Marathons Team. This turned out to be really helpful as we missed our connecting flight in Johannesburg and ended up driving 7 hours to our hotel. Without Rob and Clyde taking everything in their stride, we might not have made it.
Soon enough, having bought everything I could find with the Comrades logo on at the expo, it was the night before the race.
We had a 3 am wake-up for the race, so naturally, I woke up at 2 am, full of adrenaline. I diligently forced down my usual pre-race peanut butter and toast. In my usual fashion, I'd located the local supermarket and picked my favourite of the peanut butter offerings. I must have looked really picky, but kindly no one mentioned it at the time! The bus ride to the start was a subdued affair. Whilst lively music was played to desperately try to get us into the mood, we all sat in near silence, hoping we wouldn't actually have to get off the bus and do any running. Once we had been ushered into starting pens like lost puppies – I was in pen B, so felt totally out of my comfort zone – the traditional pre-race rituals began.
The South African Anthem is played, followed by Shosholoza, and then Chariots of Fire.
With nearly 15,000 of us lining the streets of Pietermaritzburg, the atmosphere was so special, and I'll cherish the memories forever.
The race itself is a bit of a blur. I was blissfully happy as I chatted away to anyone who would listen, whilst running at a pace far faster than I thought I should run at. I was having too much fun.
Whoops. We trotted up and down Polly Shortts, up to Umlaas Road, over Inchanga, and towards the 60km mark where I knew we had an Africa Marathons cheer point. The cheers and smiles from our support team (who had all been up since 3 am too!) gave me such a huge boost and helped me to forget my sore legs as I started the descent towards Durban. I was surprised things were still going so well, and nothing was broken. Things started to get tough around 75km into the race, but the wonderful support from the local people lining the course just never stopped. It was hard to have too low a moment when your name was being shouted and you were being told how fresh you looked. Even though I didn't feel fresh at all!
I made it over the final few hills with the help of a few too many salty potatoes and oranges (also salted – I wouldn't recommend them!) and once I could see the stadium I knew I'd done it.
Entering the stadium was the most overwhelming experience. I had far exceeded all of my expectations, and I couldn't believe how lucky I was to be there. I promptly cried my eyes out at the finish, with the biggest grin on my face. I then probably cried again when I had to climb to the top of the stands to exit the stadium!
Comrades marathon is known for its brutal 12-hour cut-off, and I knew I had several friends still out on the course when I finished. So we made our way into the stands to cheer them over the line. Everyone made it, thank goodness, and I am so very proud of them. The end of the race is an awfully sad spectacle, and I felt almost guilty to be watching it as those who had tried arguably even harder than me fought their way to the finish. However, the cruelty of the cut-off does make finishing seem even more special.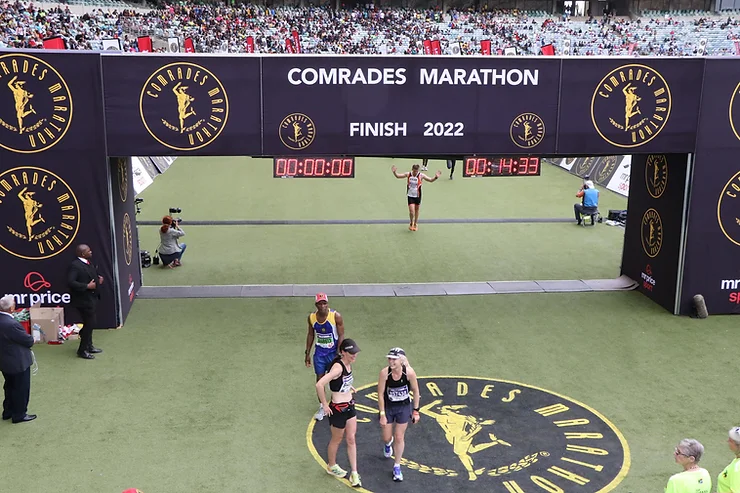 Thank you
I'm totally indebted to everyone who helped me fulfil my dream of running Comrades. I am actually really proud of myself for this one. I couldn't have done it without the support I've received from some really special friends. It's been a tumultuous few months, and I wasn't sure I'd even make it let alone run well. I feel like I got the easy job really though – doing what I love for 8 hours, with a smile on my face! There is a 'back-to-back' medal for running the race 2 years in a row, and the race certainly has a bit of my heart…but at the moment I think even a Parkrun would be a bit too much of a challenge!
By Jessica Johnson
---
Want to enter Comrades Marathon 2023?
If you get excited reading about the Comrades adventure like Jess did, then let Africa Marathons organise your trip and entry to the iconic Comrades Marathon 2023. To find out more and to enter the race please send us an email at [email protected]. You can also contact us on the button below to join. We look forward to welcoming you to South Africa.
---