2022 Is all about the much-awaited Comrades comeback!
After nearly two years of adhering to the National State of Disaster in South Africa, the subsequent suspension of sporting events and the cancellation of both the 2020 and 2021 Centenary Comrades Marathons, the Comrades Marathon Association (CMA) is thrilled to launch its #Comrades2022 campaign and announce its plans for this year's race. Here at Team Africa Marathons, it's hard to contain our excitement!
The official 2022 Comrades Marathon launch campaign
This year's Comrades Marathon launch was hosted in Johannesburg, today (Thursday, 17 February 2022), and was attended by South Africa's top media, road-running dignitaries, CMA sponsors, stakeholders, former winners, elite athletes and sporting personalities.
CMA Chairperson, Mqondisi Ngcobo unveiled the very appropriate campaign slogan, "The Return – Sishay' Ibuya", signalling the long-awaited return to road-running and a celebration of the comeback of The Ultimate Human Race.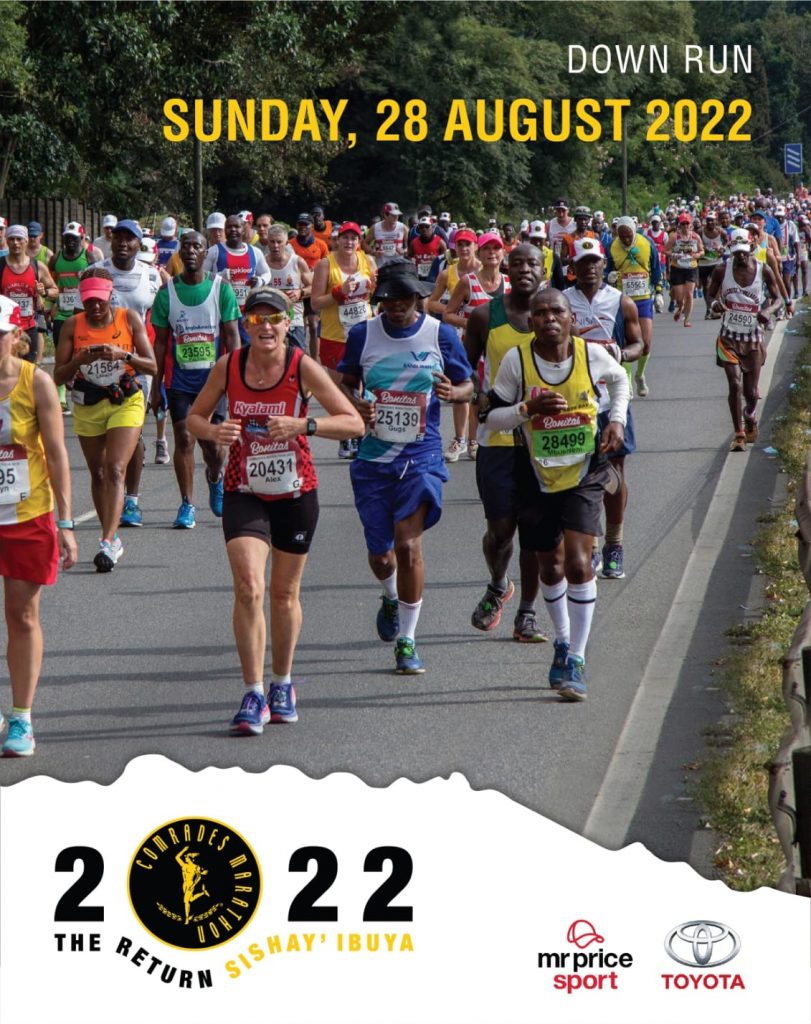 What to expect from this year's event
Ngcobo has cautioned however that, "Runners will still need to exercise a degree of care and attentiveness when out running – be it exercising, training, spectating or participating in events. However, amid all the precautions and safety measures, we are just extremely pleased to be able to host the 2022 Comrades Marathon in August and invite the nation and the world to celebrate this milestone with us."
He added, "The slogan is such a natural fit for this year's upcoming event. The return of the Comrades Marathon, let alone all other road-running events, is something that runners have been eagerly awaiting. It is therefore with a great sense of pride and pleasure that we unveil this campaign, issue details around our upcoming 95th Comrades Marathon and create the conditions for our athletes to run the race that they love so much."
Race Day has been set for Sunday 28th August 2022 and future races will also be held in the month of August, going forward. This year's run is the 47th Down Run and will start at 05h30 at Pietermaritzburg City Hall and finishes at 17h30 at Durban's iconic Moses Mabhida Stadium. This is a 12-hour cut-off with a further six on-route cut-offs. The race will follow the same route as 2018 which is a total distance of 90.2km. For athletes safety, this year's race with have batch wave starts and be timed from 'mat-to-mat'.
2022 Comrades entry details and limitations
Considering the current South African National legislation limitation on mass participation events, the entry limit has been capped at 15,000 entries. Due to Coronavirus and other health and safety implications, all entrants will need to be fully vaccinated against Covid-19 and produce their vaccine certificate to complete their entry status by 12 July.
The opening date for entries is Wednesday, 23 March 2022, when the first entry window period commences and runs for 1 week until 31 March 2022. During this window period, only those entrants who had successfully entered the 2020 Comrades Marathon will be able to enter, be they South Africa, the Rest of Africa or International entrants.
During the second entry window period, from 20 April to 16 May 2022, all other athletes will be allowed to enter. This second entry window period will not apply should the entry cap have been reached during the first entry window period.
| Entry Type | Entry Fee |
| --- | --- |
| South Africa 2020 Entrants (Discounted) | ZAR 1,000 |
| South Africa 2022 Entrants | ZAR 1,200 |
| Rest of Africa 2020 Entrants | ZAR 0 |
| Rest of Africa 2022 Entrants | ZAR 2,000 |
| International 2020 Entrants | ZAR 0 |
| International 2022 Entrants | ZAR 4,500 |
2022 Comrades Marathon Entry Fees
The entry fee for South African athletes will be discounted from R1200 to R1000 in the first entry window period, as per the CMA commitment when the 2020 race was cancelled. The rest of Africa and International entrants in the 2020 Comrades Marathon had their entries deferred to either the 2022 or 2023 race; and will therefore not pay an entry fee.
Qualification requirements
The Comrades qualifying period is from 1st September 2021 to 12 July 2022 and the minimum qualification distance remains a 42.2 km marathon in sub 4h50m time. Seeding upgrades and qualifier details will take place until 12th July 2022.
Substitutions
The substitution process runs for the whole month of June 2022. The window period to withdraw is from 1st – 14th June and the window period to secure (the sub) entry is from 17th – 30th June. Substitution is open to all local & foreign athletes and an admin fee of 15% of the entry fee will be deducted by the CMA from the withdrawing athlete. The CMA will then refund the withdrawing athlete 85% of their entry fee.
Important to note is that there will be no money or voucher exchange between athletes. The (normal) substitution admin fee of R200 will NOT apply this year and the sub athlete will pay the 2022 entry fee price as mentioned above.
Prize money and other fun "stuff" to enjoy
| Position | Men | Women |
| --- | --- | --- |
| Position 1 | ZAR 260,000.00 | ZAR 260,000.00 |
| Position 2 | ZAR 130,000.00 | ZAR 130,000.00 |
| Position 3 | ZAR 90,000.00 | ZAR 90,000.00 |
| Position 4 | ZAR 45,000.00 | ZAR 45,000.00 |
| Position 5 | ZAR 35,000.00 | ZAR 35,000.00 |
| Position 6 | ZAR 20,000.00 | ZAR 20,000.00 |
| Position 7 | ZAR 18,000.00 | ZAR 18,000.00 |
| Position 8 | ZAR 15,000.00 | ZAR 15,000.00 |
| Position 9 | ZAR 13,000.00 | ZAR 13,000.00 |
| Position 10 | ZAR 12,000.00 | ZAR 12,000.00 |
2022 Comrades Marathon Prize Money
1st KZN Athlete (Men & Women) – ZAR 50,000 each
1st South African Citizen (Men & Women) ZAR 100,000 each
Category Prizes – Veteran, Master & Grand Master (Men & Women) – 1st, 2nd, 3rd
Team Prizes (Men & Women) – 20 – 39 years (1st & 2nd), Over 40 years (1st)
Team Prize (Professional Clubs) – Open (Men & Women) – 1st – ZAR 32,000
The total prize money purse for 2022 = ZAR 2,272,000.00!!!
BEST "DOWN RUN" TIME – Should the winners (M & W) of the 2022 Comrades Marathon break the best time previously recorded for the "Down Run" they will each receive a cash payment of -> ZAR260,000.00
Men – 5:18:19 by David Gatebe in 2016
Women – 5:54:43 by Frith van der Merwe in 1989
Special (once off) 95th larger than normal commemorative medal
New Trophy to be introduced to the 20 – 39 years women's 2nd place team prize
The New Comrades App – goes "Live" at the end of the month (download it from the Google Play for Android or the App Store for iPhone)
Get your entry in
Our places at Africa Marathons are really limited, so please make sure to get your trip booked as soon as possible to avoid disappointment.
Let Africa Marathons organise your trip and entry to the iconic Comrades Marathon 2022. To find out more and to enter the race please send us an email at [email protected]. You can also contact us on the button below to enter. We look forward to welcoming you to South Africa.
---