The Comrades Marathon Association (CMA) recently announced a strong contention of both South African and International athletes for the 94th edition of the Comrades Ultra Marathon – The Ultimate Human Race.
With more than R4-million in prize money, Sunday, 9 June 2019 will show us who truly rules the rolling hills of KwaZulu-Natal. Who will take the honours at Comrades Marathon 2019?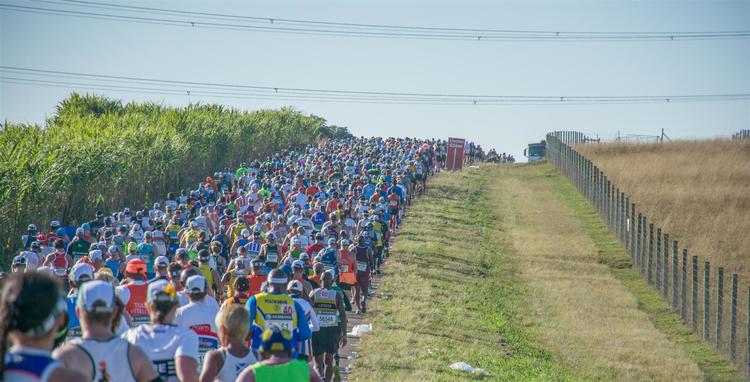 Male contenders at Comrades Marathon 2019
Bongmusa Mthembu
Mthembu will undoubtedly be the main man to watch at the 2019 Comrades Marathon after his fabulous win at Two Oceans in April. His flawless victory en-route to Durban last year saw him become the first South African athlete since the legendary Bruce Fordyce (1988) to win back-to-back races. The 34-year-old won a bronze medal at the IAU 100km World Championships staged in Croatia last October. In addition to his three victories, Mthembu has another four gold medals to his name and will be on the hunt to become the first athlete since Stephen Muzhingi to win the race three times in a row.
Nao Kazami
Japanese ultra-runner, Nao Kazami holds the World 100km record of 6:09:14 which he achieved last year and will run his first Comrades Marathon this year. Kazami knew nothing about the Comrades Marathon until he met the South African contingent at the IAU 100km World Championships. Kazami is hoping to finish in 6th position as the prize money will cover his travel costs.
Gift Kelehe
The 38-year-old is eager to return to the winner's circle after romping to victory in the 2015 edition. Kelehe fancies the Up Run and will be looking to add to his haul of six gold medals. The hills of Dullstroom will provide a stern test for Kelehe as he prepares for another crack at the title along with the champion coach, John Hamlett.
David Gatebe
2016 Comrades Marathon Down Run Winner and record-holder David Gatebe managed to sneak into the top ten last year with an eighth-place finish at the Moses Mabhida Stadium. He will have fresh memories of his last Up Run which did not go to plan, claiming a silver medal in a time of 6:12. The record-breaking achievements from 2016 catapulted his career and he knows a win in 2019 will further cement his status as a Comrades great.
Steven Way
The British athlete reached the podium last year, coming home third behind Joseph Mphuthi for his second gold medal. Way is a seasoned ultramarathoner with victories at the World 50km Championships and the Stockholm 100km under his belt. His Up Run PB is 5:49 and he will have to shave a fair amount off that time to get into genuine contention. He is a massive fan of the Comrades and will arrive in South Africa with his game face on.
Hatiwande Nyamande
With 2 Gold and a Silver in the 2017, 2015 and 2013 races respectively, the 40-year old Zimbabwean is aiming to do better in this year's Comrades after not finishing last year's race. Having claimed the 3rd position in 2015 and 2nd place in 2017, Nyamande is one to watch.
Teboho Sello
Since winning his first gold medal back in 2015, Sello has established himself as a genuine top ten contender. He won back-to-back golds in 2017 and 2018 and if all goes his way on the day, he could be a possible contender for a lofty podium finish. He came second at the Lesotho High Altitude race last December. He did so in a blistering time of 2:30, suggesting he will be well prepared to go the distance at the 2019 Comrades.
Joseph Mphuthi
The 41-year-old stunned the field to finish as runner-up last year. It was Mphuthi's third gold medal and his best performance yet at the race. Mphuthi may be nearing the end of his running career but he will certainly savour an onslaught on the podium once again. He won the Sasol Marathon in February in a brisk time of 2:27'. Expect him to be right up there, pushing for honours.
Ludwick Mamabolo
The 2019 edition will mark seven years since Ludwick Mamabolo claimed his only Comrades victory in the 2012 Down Run. He has collected another four gold medals since, taking his total tally to seven. Mamabolo finished fourth in the 2017 Up Run and the man from Limpopo will be desperate to add an Up Run title to his name.
Marko Mambo
Mambo has bags of ultra-running experience and will be 47 by the time he lines up at the 2019 Comrades Marathon. He showed last year that he remains a fierce competitor with a fifth-place finish in a time of 5:37. His only finish in the Up Run came in 2017 when he came home in 11th. As his career starts to wind down, he will be eager to add an Up Run gold to his pair of Down Run golds.
Mike Fokoroni
Since making his race debut back in 2015, Fokoroni has struggled for consistency, notching up two gold medals from seven starts. He has proven though that he can make the top ten going up to Pietermaritzburg and down to Durban. Fokoroni can be unpredictable but if it all clicks on the day, he will be among the top runners.
Gordon Lesetedi
Lesetedi broke into the top ten for the first time in his fifth attempt last year, finishing sixth in a time of 5:39. Coached by the experienced John Hamlett, Lesetedi enjoyed a tough training camp in the mountains of Dullstroom. The Safety and Security Officer at Entsika is now 35 and will be hoping his maiden gold last year will serve to ignite his career.
Edward Mothibi
Mothibi claimed an incredible fourth place on debut last year in a time of 5:36. As an unknown quantity over the ultra-distance, he surprised many en-route to Durban. His aim now is to add back-to-back gold medals to his name. He was the first South African home in 6th spot at the Soweto Marathon in November last year and with a strong group of runners around him from the Nedbank Running Club, expect Mothibi to be in the thick of things again this year.
Female contenders at Comrades Marathon 2019
Ann Ashworth
Ashworth shocked the field to win the 2018 race with a tactical and composed performance. She subsequently left her career as an advocate to run full time ahead of the 2019 race. Ashworth is in good form and achieved a marathon PB of 2:35 at the Valencia Marathon in December. A genuine contender to become the first female to win back-to-back races since Elena Nurgalieva.
Gerda Steyn
The 28-year-old has enjoyed a meteoric rise from amateur to professional in the space of just five years. After finishing as runner-up last year, Steyn took a six-week break from the sport before preparing to tackle the New York Marathon, finishing 13th in a PB of 2:31. The 2018 and 2019 Two Oceans winner has made it clear, her goal this year is to claim a maiden Comrades Marathon title.
Camille Herron
Herron was left gutted just weeks before last year's race as injury robbed her of a chance to claim back-to-back victories. It has been two years since her big win but the raging crowds and electric atmosphere which greeted her at the finish at Scottsville Racecourse will serve as a huge motivating factor as she prepares for a comeback. Last December she set a new 100-mile record at the Desert Solstice Track Invitational. As the reigning Up Run champion, the 37-year-old is a genuine title contender.
Charne Bosman
The 2016 Down Run winner has proved to be one of South Africa's most consistent athletes in recent years. She has five gold medals from six starts at Comrades. She is now 43 but there are no signs of her powers waning. She won the Johnson Crane Hire Marathon in January and the Om Die Dam Marathon in March. Bosman is in red hot form and is a genuine contender to win the race.
Devon Yanko
American, Devon Yanko's Comrades journey began back in 2012 when she came fifth on debut. She then took a four-year break from the race but returned over the last two years to earn another two gold medals. Three starts and three top ten finishes. She won the Oaklands Marathon in a time of 2:43 in March. An accomplished runner who knows what it takes to push for a win.
Danette Smith
A newcomer to the sport of ultra-running, Smith claimed a gold medal on debut in 2017. She could not back that top ten-finish up last year but will return in 2019, quicker and fitter than ever before. She enjoyed an encouraging start to the season, winning the Kango Caves and West Coast Marathons.
This year's up run promises to be an epic race with some great performances. We wish all 2019 Comrades Marathon runners all the best on Sunday, 9 June.
#Sizonqoba – Together we triumph!