With the Comrades Marathon press release and official media launch coming up soon on 2nd October 2019, some of you may have started thinking about entering the 'ultimate human race'. We expect the entry date to be announced at the media launch, which may be some time soon after. Last year the 25,000 places were sold out within five days, so now is the time to make that decision!
To help you decide if you'd like to run Comrades we've come up with our top five tips for taking on the Comrades Marathon:
1. Taking on the Comrades Marathon training takes time
Many marathon training programmes are 16 weeks long, but you'll need longer than this for Comrades. The race is 87km long, which is more than double a marathon distance. Most athletes train for at least six months, many for more, but it depends on where you are starting from. As you can see taking on the Comrades Marathon takes dedication.
Ideally, you should be a regular runner, having run a marathon before. As you need to qualify for Comrades, you'll also need to run a qualifying race beforehand so you'll need to factor in time for this too.
2. Modify your training
Completing an ultra marathon successfully and enjoyably is about succeeding with your pacing strategy. If you are used to doing a lot of speed sessions over short distances in your training, now is the time to make some changes to your programme. For Comrades its more about increasing mileage slowly and steadily, and running this at a pace that is slower than you are used to.
The pace of your long runs should feel easy, and many recommend judging this by feel instead of your watch pace. Comrades must be completed in under 12 hours to get your finishers medal, so it is about focusing on training that will allow you to sustain the correct pace over that distance.
Another reason to build mileage slowly and gradually is to reduce the risk of injury. Your body needs time to adapt when increasing your running so by doing it gradually, you are allowing for this.
Some people who struggle to find time fit in long runs regularly, chose to break these up and run twice a day. This is not a strategy for everyone, but it can allow you to continue the mileage and build it around your lifestyle a bit better.
3. Train specifically
The closer you train to the terrain you'll be running on the day the better. Comrades 2020 is a 'Down Run', does mean elements of down-hills, but don't be fooled; there are lots of up-hills too. So as part of your weekly mileage, consider doing regular hill sessions. It's also worth thinking about the climate. Durban has a warm humid climate, and although Comrades is run in winter, it is often very warm still. So if you can get used to running in these conditions it will definitely help you on race day.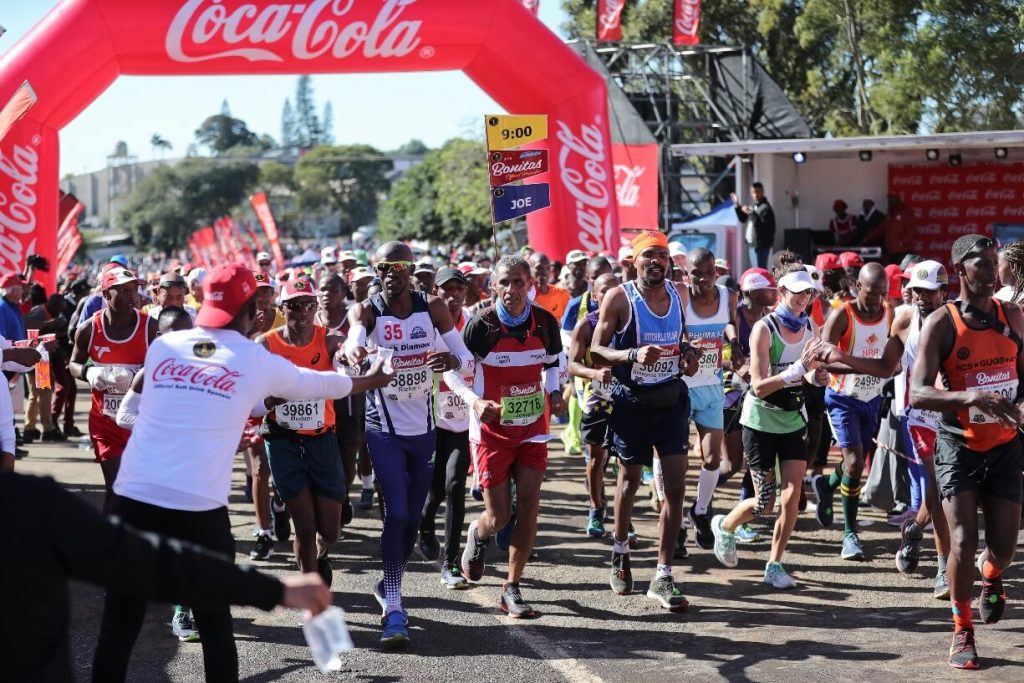 4. Cross-training and strength
These are the things that often get put down the list of priorities due to lack of time trying to fit everything in. However, with the load of distance running, it is so important that we are strong enough to cope with this and to reduce that load from time to time by cross-training.
Cross-training allows you to continue to build your cardiovascular fitness while giving your legs a bit of a rest from the impact. Many runners aim to do 1-2 sessions of this a week. Swimming is great, as is cycling or rowing, as they are all low impact.
Strength training should ideally be 2-3 sessions a week, but it does not need to be with super heavy weights or resistance. Ultrarunning is an endurance sport, so more reps with lighter weights are better. Pilates is excellent, as is yoga too as it allows a chance to stretch out too.
5. Rest and recovery
What many runners forget to consider is the importance of rest and recovery when training. It is during the recovery period after exercise that our fitness gains develop, so you do need to allow time for this. Recovery can be active, like a walk, or a cross-training session but most runners should aim to have one complete rest day a week. This will also help to reduce your injury risk and prevent too much fatigue kicking in.
You'll also notice you may require more sleep than usual. If this is the case, try to listen to your body and get extra sleep if you can. It is also essential to think about your diet when training and making sure you are getting the right nutritional intake to cope with your training. To train at your best you will need energy from carbohydrates and to aid recovery, protein is also important.
Now you're equipped with information about what lies ahead with training for an ultra marathon, who's ready to enter and take on the Comrades Marathon 2020?!