We take a look at running the Comrades Marathon with Just A Little Bester. Meet the passionate runner and online coach, Nick Bester, aka Just A Little Bester, who shares his experience of preparing and running the Ultimate Human Race back in 2014. He not only has the name-sake, but he also has oodles of talent too!
"It's a race that is built only for the toughest of the tough"
"It's the last 30kms of the race that counts. This is the part where all that training pays off and where the mentally strong come through"
The Comrades is a race I have the utmost respect for! It's a brutal 89km ultra marathon. In my view, it is one of the hardest marathons you'll ever run, followed by the second hardest marathon you'll ever run, and then add in another 5kms at the end! You run from Pietermaritzburg to Durban and then change direction every year, making the one a down run and the other an up run.
The Comrades Marathon – also known as the Ultimate Human Race
It's a race that is built only for the toughest of the tough. This is evident by the fact that there is no separate men's or women's qualify time or cut-off. To put things into perspective there are around 22,000 people who enter this event. About 16,000 people make the start line (most dropouts are due to runners getting injured in training), about 12,000 finish the race of which about 70-80% of the field finish within the last hour.
The most brutal part of the entire race is the cut off after 12 hours. As soon as the clock hits this 12-hour mark, the officials pull a rope across the finish line, stopping each and every runner who has just missed it.
It's heartbreaking to see the devastated faces of these exhausted runners who have come so close but will go home without a medal. The worst part about it is they don't even let you walk across the finish line – instead, you have you turn around and exit the stadium back along the route, where just a few seconds earlier you were busting your guts out trying to make it in time. That pretty much defines the Comrades Marathon: it takes no prisoners.
Why I entered
In 2010, I made it official that I would like to run this monster in 2014. 4 years went by in the blink of an eye. I'm not someone who commits to something and then backs out, so I thought if I'm going to do it, let me at least train hard, put the work in and do this properly.
Training for Comrades
In my opinion, it was always the training for this race that was the hardest part. In running, what you put in, is what you get out. There are no shortcuts! We'd wake at 4.30 AM every morning, without fail to get our training done. What started off sounding completely crazy, became normality.
The two most important things of your training are: time on the legs (getting the legs used to mileage) and doing hilly, undulating runs. I was fortunate enough to live in a hilly area. So the elevation gains on a training run were a lot more than the majority of other runners training for Comrades.
It wasn't always easy leaving the house in the dark, half-asleep, having to start on an uphill. But it was a hill I'd later thank myself for running up every day. The aim was always to run as much as possible with just enough time to get the legs to recover so that you could go again. Double run days became normality too. The actual race day was hard but if you trained properly for this race, it was the brutality of the training that was harder.
My typical training week would look as follows
Monday:
Morning run – 13km (easy)
Evening run – 10km (easy)
Tuesday:
Evening time trial – 8km (as hard as possible)
Wednesday:
Morning run – mid-week longer run – 25km (easy)
Thursday:
Morning run – 13km (easy)
Evening run – 10km – hill repeats (1km steep hill)
Friday:
Easy 9km
Saturday:
Morning run – 20km (including ParkRun)
Sunday:
Morning run – long run of 42kmor longer (usually a marathon, ultra or a
longer hilly training run)
Only in my last Comrades did I have Strava, so before this, I recorded my training by writing it down in a good old logbook.
The race
I get goosebumps every time I think of it!
It's important to get good rest the second night before the race because no one sleeps well knowing you're running Comrades the next day. On race day, I would typically wake up at 3 AM for a 5.30 AM start. Then the usual race routine would begin.
Like a typical runner, the last-minute self-doubt creeps in. Should I have an extra slice of toast? Should I try this bar? Should I pack extra gels? Should I try to go to the bathroom just one more time? It's the same thing that happens to all of us runners: you know your pre-race routine works as it has in the past, but you doubt it every time you have a big race.
Eventually, when you get into your start pen at around 5 AM, this is when the true Comrades spirit really kicks in. The anticipation of all 17,000 runners on the start line, revving to go, creates a buzz and a vibe which rattles through your bones. You sing the national anthem, followed by a traditional South African song 'Shosholoza', then by the time they start playing 'Chariots of Fire', almost every athlete has a tear in their eye! Very rarely do I get emotional, but when it comes to the start and finish of Comrades… I cry like a baby!
The cock then crows 3 times, followed by the gun going off, and finally, you're on your way knowing the next time your legs stop moving is after a gruelling 89 km.
Pacing and getting the right nutrition during this race is more important than anything. I've never managed to eat much during the race, even though I've tried every year, I just can't seem to be able to stomach food during the run. Just about the only thing I could eat was salami sticks because let's be honest, salami sticks are so yummy. Even when I don't feel like food, I can eat these.
I usually take around 5-6 gels throughout the race, as well as about 3 caffeine shots towards the end. As for my drinks, I pre-mix an electrolyte drink that my seconds give me, then apart from this, I have the Energade, Coke and water that's available at the water points en route.
Not going out too fast is crucial and is a mistake made by many. In my previous races, I have been well behind the field at halfway relative to where I finish. You definitely want to avoid hitting the wall at all costs. My mental preparation for the race is as follows: 30km warm-up, followed by 30km grinding, followed by 30km of doing whatever it takes to push as hard as possible from there until the finish. Usually, I think of someone and dedicate this part to them, which gives me an extra kick and gets me through.
It's the last 30kms of the race that counts. This is the part where all that training pays off and where the mentally strong come through. This is the part that separates the boys from the men and where the people who went out too fast start paying for this rookie error. I actually sometimes hallucinate at this point during the race. My mind plays tricks on me and my brain goes into survival mode. I once almost snatched a kid's ice cream from him without even thinking. That's the level of exhaustion you're at during this point of the race.
Then finally it is the last km of Comrades. You always finish by doing a lap of a field. The point where your feet touch the grass is the moment you've dreamt of from the start. You know it's just one last lap and you've made it! I've been lucky enough to finish this section with the leading ladies. The crowds go absolutely mental. Finishing with the top ladies also gives you the benefit of some quality TV coverage which my friends and family who didn't come through to watch the race always appreciate. I could almost hear my Mom just screaming at the TV!
Once you cross the finish line your legs feel like jelly. Mine almost go into a state of shock! This is the point when I sit down. I take some time to myself and the realisation of what I have just achieved kicks in. The 2000 plus kilometres were all in preparation for this. It was worth every single km! My eyes swell up and tears start coming out uncontrollably. I've done it! For me! For the person I was thinking of! For my family and friends who were backing me! For the seconds supporting me along the route!
Not only have I done it but I managed to get a silver and exceed my expected finishing time every year! It's this sweet moment that bought me back for more and more. Had I still been living in South Africa I have no doubt it's a race I'd still be doing year in and year out.
My Comrades times, positions and mileage
2014 (24-years-old) Down Run: 7.14 ~ ave pace 4.53, position 343, mileage from Jan – June: 2,000km
2015 (25-years-old) Up Run: 6.58 ~ ave pace 4.42, position 103, mileage from Jan – June: 2,250km
2016 (26-years-old) Down Run: 6.28 ~ ave pace 4.21, position 74 (youngest in the top 100 by 2 years), mileage from Jan – June: 2,750km
The down vs the up run
The down run is faster and times are generally quicker. The impact on my body caused me to be stiff for about 2 weeks after the race. I try to build my legs as much as possible to deal with the impact and do extra strength work for the down run.
The up run is tougher. The constant climbing grinds the muscles in your quads. It's a lot more exhausting and I try to get as light as possible. Having said this, I can just about walk normally the day after an up run.
Would I ever do it again
It's a thought that runs through my mind often. Deep down inside, I know I'm capable of achieving more than what I have already achieved in this race. I've said that I would like to do the 100th edition which is in 5 years time and give it one last balls to the wall effort. It's a selfish race that requires a lot of sacrifices, so hopefully by this time I've achieved my shorter distance goals.
Is it possible for me to run a sub 6 one day? Who knows, but I always back myself.
Please hop on over to Nick's website for more on his running experiences and online training.
The only question we want to know is will Nick sneak in a Comrades dress rehearsal run before attempting a sub 6 hour?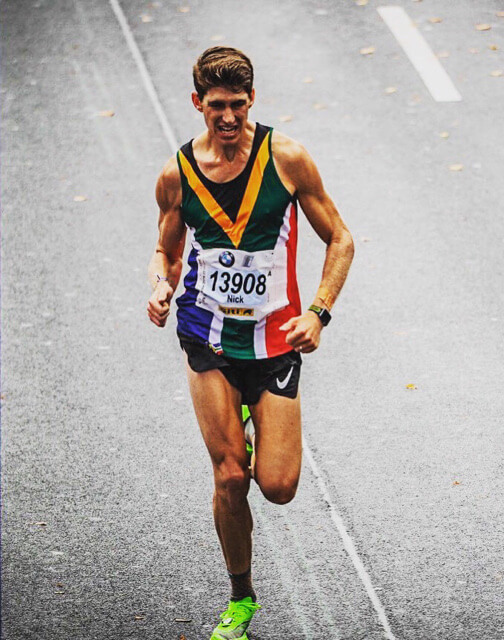 Nick Bester
Africa Marathons Online Coach
Nick is currently a 29-year old South African runner living in London where he's been based for the last 3 years.
He initially got into running by committing to do the Comrades Marathon in 2014. After finishing in a time of 7h 14min and managing to get a silver medal in his first Comrades (down run), he wanted to train a little harder and have one more years' experience to tackle the Comrades Marathon (up run). He took this challenge on and completed his second Comrades (up run) in a time of 6h 58min. The challenge wasn't over and he knew he could get faster so he was back the following year (down run) and finished in a time of 6h 28min, finishing 73rd overall.
Comrades is in his blood and Nick is planning to be back to run the 100th year run in 2021. He has completed many other international marathons and is aiming for the Abbots Medal by completing all six majors.
His last 23 marathons have all been sub-3 hours with his most recent Berlin Marathon finish a very respectable 2h 29min. You can catch all his running tips and coaching insights right here on Africa Marathons or visit his website on Just a little Bester. He's excited and looking forward to working with the Africa Marathons team on achieving each runner's goals. Feel free to email him on [email protected].