So much has happened this year while running in South Africa. Moving to South Africa in the middle of the UK winter and the South African summer was initially a bit of a shock running wise!
I remember my first weekend here when we decided to do one of the local Parkruns, the North Beach Parkrun. They start an hour earlier here than in the UK, so I thought that would help it be a bit cooler. How wrong I was! The heat and humidity got to me, and it was a big struggle. For someone who regularly runs distances much longer than 5k, it made me appreciate how I was going to need time to adjust to running in the heat and humidity.
Sunrise beach running
Soon after my arrival in South Africa, I met some people who run along Umhlanga beach very early in the morning every Wednesday. So the following week, I was setting my alarm for 4.30 am and heading down to the beach to join them.
Any doubts I had about getting up to run that early soon disappeared when I set off running while watching the most incredible sunrise over the ocean. That, coupled with cooler conditions, was all it took to get me motivated to get up and running at that time of day many times since.
I have continued to enjoy early morning runs there with the sunrise, the sounds of the waves and the occasional sighting of a pod of dolphins swimming by. And of course, after the run, comes a coffee catch up in the Daily Dose coffee shop. I also soon realised the mornings are the time of day most people in Durban socialise, quite a switch from my UK life.
Running goals
Once I started to adjust to the running conditions in Durban, I needed some goals! And I wanted to experience what racing in South Africa is like. So I set my sights on two primary races, the Two Oceans Half Marathon and the Cape Town Marathon 10k, where I would work toward achieving a personal best time.
Both events are huge in South Africa and ones many runners aspire to compete in, so I felt very privileged to get the opportunity to run in both in my first year here. In between these events, I decided that I also wanted to take part in some local races to allow me to explore more of the area and meet more people
Two Oceans Half Marathon
The Two Oceans Marathon is held on Easter Saturday each year, so a few days before the Easter weekend, I excitedly set off for Cape Town. After a couple of fantastic days sightseeing in the Mother City, it was race expo time to pick up my number.
After a dinner of pasta and an early night, I was up very early at 3.30 am to get prepared for the race! My start time was 5.40 am so it would be starting in the dark. After a rush to the start line because of traffic, I was soon setting off!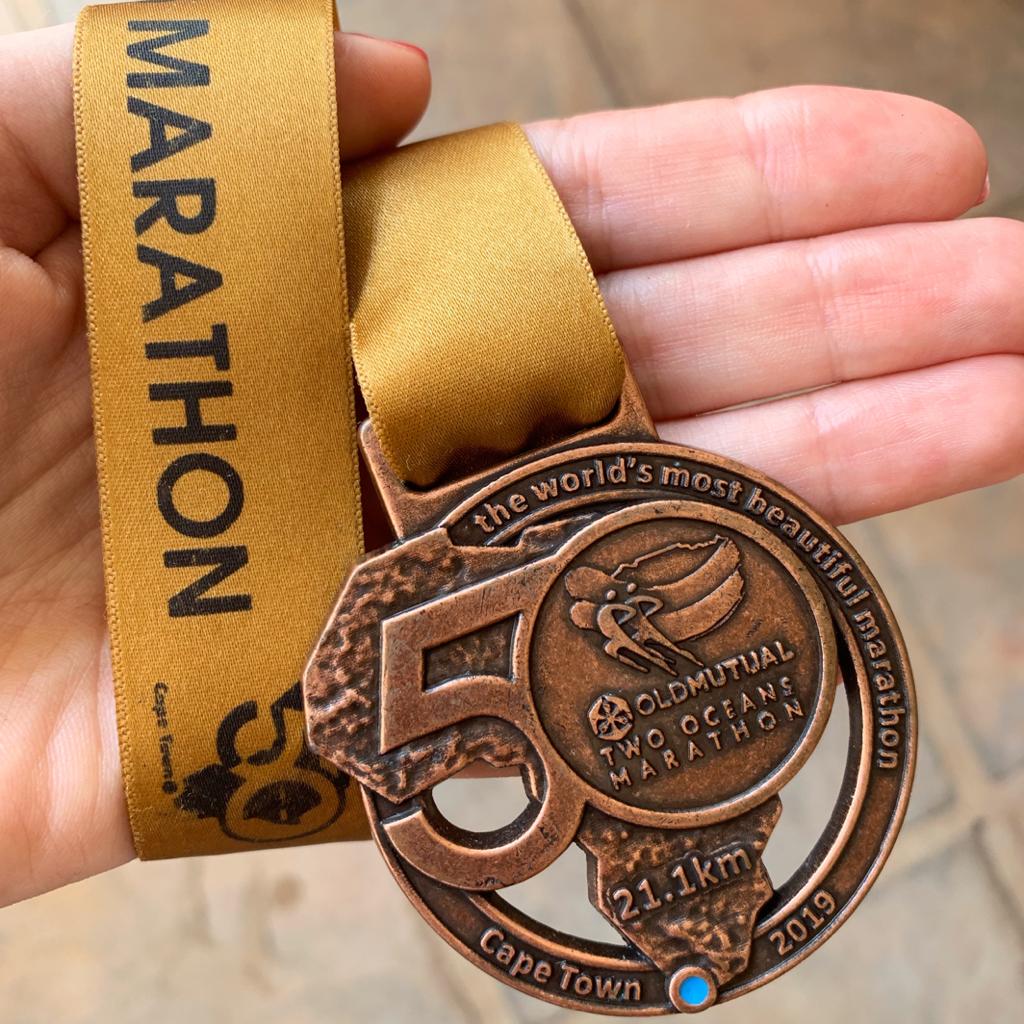 Ahead came 21km of hilly and beautiful scenery while running with a massive crowd of runners, probably the most I have ever run with. As the sun rose from behind the mountains, the bands started playing, and I was spurred on by a fantastic atmosphere. It certainly was a tough 21km, but I was thrilled to finish in under two hours, and I felt strong throughout.
One of the best things about running in Cape Town is the post-race celebrations. I spent the next week sipping wine in the beautiful vineyards of Franschhoek and enjoying an incredible safari at San Bona Wildlife Reserve. But after a week of rest, it was back to training again.
Cape Town Marathon 10km
My next big goal was the Cape Town Marathon 10km which I was running with the Africa Marathons team.  Having run numerous 10ks before, I wanted something to work towards and achieving a personal best time was what I set out to do.
I knew the course was going to be flat and the weather cooler than Durban, so if my training went well then, I was in for a chance. So over the next few months, I focused on speed work and hills alongside some easy running. I also ensured I did regular strength training and cross-trained in the pool and did a few spinning classes.
Two days before the race I flew out to Cape Town and joined Gareth, another member of Africa Marathons, who was also running the 10k. Bright and early on Sunday 15th September we lined up on the start line for the big race.
I was lucky to be in start pen B, so I had a good chance of setting off quickly, which I did. The course took us along Beach Road and back. The views were beautiful and the atmosphere was great, but I was more focused on maintaining the pace I had set off with.
Things got tough, but I kept pushing on and I was thrilled to cross the line with a personal best time of 48.22. After the race, we got to meet South African rugby legend Francois Pienaar which was a tremendous post-race treat!
Trail running with Run Cape Town
I took a day to rest after the Cape Town 10k, but two days later I was up early in the morning and running the trails of Lions Head with a local running tour company, Run Cape Town.
The route took in the most incredible views of Cape Town, and I loved the challenge of running on the trails. I loved it so much so that when I returned to Cape Town in November, I booked another run with Run Cape Town and this time ran the contour path of Table Mountain. Again the views were amazing and it was the perfect start to the day.
Durban races
I have also managed to run in several races in Durban this year, which I just loved.
I ran an 8k beach race on the sand, an event hosted by local sportswear company Funkypants, which was both challenging and fun. I have also done a few road races, all of which involved hills, and a lot of them! One thing I have had to get used to in Durban is hills, but I think it has made me a stronger runner for it.
I have recently joined a local running club, the DHS Old Boys, and they hosted a 10k event, which I entered. It was great getting out there and running as part of a club again, and I can't wait for more adventures with them next year.
Why I love running in South Africa so much
I absolutely love my running in South Africa, and I feel grateful to be experiencing running in a different country and continent. There is such a community spirit and running is such a social sport here.
To have running in my life has made settling into a new country so much easier as it has led me to meet so many fantastic people. Also, I have found that nothing makes you feel like you are in Africa more than when you are running, especially in a race. I have loved the inclusiveness of running in South Africa, and it has been fantastic to see so many talented runners participate with such passion.
I am excited now about the running adventures I am going to have in 2020.  It is time for me to set some goals for next year, but I already know I would like to explore more of this beautiful country on foot and I would like to enter my first trail race. I am not quite ready for the Comrades Marathon next year, but I'd like to build up my mileage in preparation for the possibility of it in 2021. So bring on running in South Africa in 2020!