There is so much history to this 'Ultimate Human Race' that we decided to highlight it in a complete guide to Comrades Marathon.
This is all you've ever wanted to know about Comrades Marathon.
The Timeline of Comrades Marathon Events
1921
To honour his wartime comrades Vic Clapham organised the inaugural Comrades Marathon, with 34 starters, and only 16 finishers.
1923
Frances Hayward becomes the first unofficial female finisher. The 'white men only' rules mean she received no medal, so her fellow runners and other spectators held a collection to buy her a silver tea service as a prize.
1935
Robert Mtshali becomes the first unofficial black finisher, but was unfortunately not given a medal due to the political climate at that stage in South Africa's history.
1962
Welcomed the first foreign runners to the Comrades Marathon. Four of the runners from The Road Runners Club of England, including the race winner John Smith.
Watching the stragglers finish, Smith commented to former winner Bill Cochrane that they were getting as much applause as he did. 'You are now witnessing the spirit of the Comrades,' replied Cochrane.
1975
The 'white men only' rule is finally scrapped. Gabeshane 'Vincent' Rakabele becomes the first black runner to officially receive a Comrades medal. He finished 20th overall in 6 hr 27 min. Elizabeth Cavanaugh is the first official women's winner, in a time of just over 10 hours.
1976
Twenty black athletes enter Comrades, all of them finish and a staggering three finish in the top 20.
1981
The up & coming star of Comrades, Bruce Fordyce, wins the race wearing a twisted black armband on his left arm, as a symbol of anti-apartheid protest.
1989
Sam Tshabalala becomes the first black runner to win the race.
1995
The icon, President Nelson Mandela, congratulates winners at The Comrades Marathon finish line. The traditional race day May the 31st is changed to June 16th to mark the anniversary of the Soweto uprising.
2009
Every male winner from 2009 has been a black athlete.
The Comrades Marathon Course
The Comrades route alternates each year between a 'Down' run and an 'Up' run. 2018 was a 'Down' year and slightly longer than previous versions at 90.18km. Comrades Marathon 2021 is once again scheduled as a 'Down' run.
The 'Down' route is from Pietermaritzburg to Durban and on average 89km and the 'Up' route from Durban to Pietermaritzburg around 87km.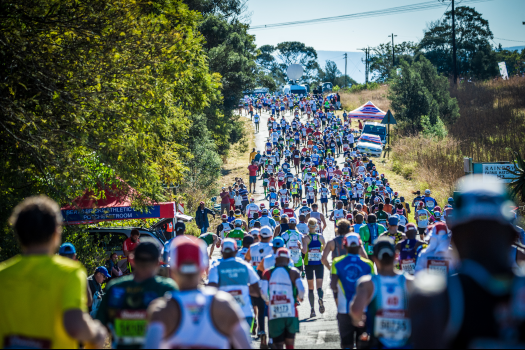 Comrades Course Records
'Up'
Fastest man: 5:24:49 – Leonid Shvetsov, 2008
Fastest woman: 6:09:23 – Elena Nurgalieva, 2006
'Down'
Fastest man: 5:20:49 – Leonid Shvetsov, 2007
Fastest woman: 5:44:43 – Frith van der Merwe, 1989
Complete Guide to Comrades Marathon Stats
Course Elevation – 2,854 ft (810m)
The most consecutive wins are eight, held by the unbelievable Bruce Fordyce – 1981, 1982, 1983, 1984, 1985, 1986, 1987 and 1988
In 2012 – 1,411 of 18,113 entrants were international runners
The most medals won by one runner, Dave Rogers is 44
23,961 Is the highest number of Comrades Marathon entrants for the 75th-anniversary race in 2000
15.3km/h is the average speed of the leading male
The iconic Wally Hayward won in 1930 then again in 1950, 1951, 1953 and 1954. And in 1989 he became the oldest man to finish, aged 80
The Silver Wear
Gold for the first 10 men and 10 women
Silver-centre circled by a gold ring – 'Wally Hayward' medals for 11th place to sub-6:00 (including men and women)
Silver – 6:01 to sub-7:30
Bronze-centre circled by a silver ring – 'Bill Rowan' medals for 7:30 to sub-9:00
Bronze medals for 9:01 to sub-11:00
Copper – Vic Clapham medals for 11:01 to sub-12:00
Prize Money
Men & Women's prize money (each):
1st – ZAR425,000
2nd – ZAR210,000
3rd – ZAR160,000
4th – ZAR80,000
5th – ZAR65,000
6th – ZAR36,000
7th – ZAR32,000
8th – ZAR28,000
9th – ZAR24,000
10th – ZAR20,000
The total prize money is ZAR2,160,00 (+- USD143,000 / GBP108,000).
The Brutal Cut-Offs
12-Hour (17h30 local time) cut-off time to finish
6hr10min – halfway cut-off at Drummond
There are more cut-off points along the route.
There is also a minimum requirement of a 5-hour marathon time to qualify.
Greatest Cheats
During the 1993 race, 40 Kilometres was the distance travelled in a taxi by, a later disqualified, top ten finisher Herman Matthee.
In 1999 two identical brothers swapped places and drove between toilet stops. They were exposed when TV footage showed them wearing watches on different arms.
Bib Colours
White – first race
Yellow – 9 finishes, going for 10th
Green – 10 or more previous finishes
Green sripes – 20 or more previous finishes
Orange – back-to-back runs
Blue – International runner
The 5 Big Hills
Cowies Hill – Length 1.3 miles, height 334 feet
Fields Hill – Length 2 miles, height 610 feet
Botha's Hill – Length 1.4 miles, height 382 feet
Inchanga – Length 1.4 miles, height: 475 feet
Polly Shortts – Length 1.1 miles, height: 392 feet
The Biggest Loser
During race the average runner will lose… 4.5 litres of sweat and 3-5 kg of body weight.
Finally We Leave You With This
South African rugby player Bill Payn's in-race fueling strategy in 1922 consisted of bacon and eggs, curried chicken, beer, peach brandy, oranges and tea He finished 8th.
Comrades Marathon truly is a race for everyone. If you want to join team Africa Marathons as an international entrant and get hold of a blue bib, pop us an email on [email protected] or enter below.