Gerda Steyn is a great success story, from not making her high school cross-country team to taking South Africa's road running crowns in 2019 at the Comrades & Two Oceans Marathons and winning the hearts of the people.
The breakthrough moment for Gerda Steyn
We were looking forward to seeing Gerda Steyn's performance in the Comrades Marathon 'Down' run this year after she obliterated Russian Elena Nurgalieva's 'Up' run record of 6:09.24 by coming in 17th overall in 5:58.53 in 2019. As with most races this year though, it was cancelled due to the COVID-19 outbreak, but we look forward to 2021!
Gerda's recent interview with Runner's World
In June 2020 Runner's World interviewed Gerda Steyn in Dubai, where she resides with her airline pilot husband, Duncan. Here is what she had to say.
RW – How have you been managing to train?
GS – I have an indoor bike, but not a treadmill. I also have the usual gym stuff. It's a bit mind-numbing, but I live in a 30-story apartment block and I've been using the stairs to train. Sometimes I pack weights in a backpack and hike up, other times I time-trial up. It's a really tough workout. I count my hours of training rather than the kind of training that I do. And I think I'm still managing to maintain my fitness, but not necessarily gaining any.
RW – It must be tough not knowing when or where you'll race again.
GS – Yeah, true. Everything's been cancelled. And the Olympics was obviously a big goal this year.
But as soon as I realised the Games were under threat of being postponed, I started to think I could run Comrades this year, but unfortunately, that was cancelled recently.
RW – You seem to have taken the opposite path to most top runners; you started out as an ultra runner and then turned to the marathon.
GS – Running a good marathon has always been on my mind, even though I started my career running ultras. Since I started running in 2014, I've run a marathon at the end of each year, and have always improved my personal best.
But if you'd asked me two or three years ago whether I would go to the Olympics, I would have said, "Only if they include a 100km race!"
It wasn't something even in my frame, and I never honestly thought I could make it. But when I ran 2:27 last year in New York, I started to believe that maybe it was possible.
I'd only gone into that race trying to achieve my own personal goal of 2:29, and luckily it was in line with Olympic qualifying. So even though the Olympics were postponed, I feel very fortunate to have been included in the team.
I certainly don't ever want to limit myself to ultra marathons. Comrades and Oceans are always there, but I probably see myself now more as a marathon runner, with the exception of those two races.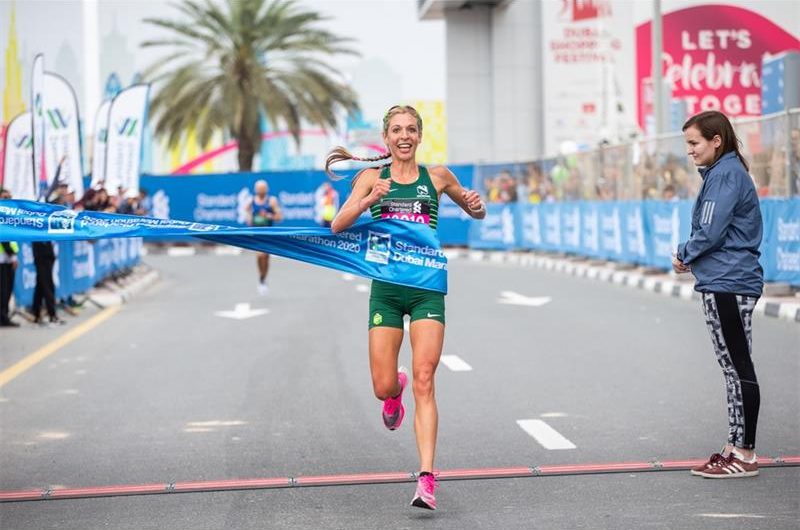 RW – Tell us about your childhood and your schooldays.
GS – I was born and brought up in Bothaville, in the Free State. I grew up on a farm that did all types of farming, from sheep to chickens and other agriculture. I had a very active childhood living on a farm.
But I was certainly never a runner at school; and I tried all sorts of other sports, including hockey and netball.
Even when I went to the small Bothaville High School, I didn't stand out in running. In fact, I didn't even make the cross-country team, because I wasn't fast enough.
It was only when I went to university in Bloemfontein that I started running a bit, with a friend. But it was only 5km, and very amateur. I even remember doing a 10km race once, and thinking how hard it was!
RW – So when did running start to become more serious?
GS – Only after I started working in Dubai, at the end of 2014. I'd taken a job as a quantity surveyor, and I decided to join a local running club to meet people.
There were a lot of South African ex-pats who went to Comrades each year, and I started training with them. And I started falling in love with the sport.
RW – And then? Did you start to realise you had some talent?
GS – I think Duncan realised way before I did!
In October 2014, we all decided to run the Dubai Marathon, and I finished in 3:11. When I started the run, I didn't know what pace to run, and Duncan just told me to run with one of the more experienced runners, who was aiming for 3:30. But after halfway I felt really good and decided to push a bit harder. When everyone saw my time they were flabbergasted, they couldn't believe it.
For me… I was so naive. I just thought that if you train, you improve; and that was the result. I didn't realise the significance of the time I had run.
RW – So you carried on to run your first Comrades Marathon in 2015? Not bad for a newbie.
GS – Yes! I did a lot more distance running and didn't find it too difficult. I was aiming for a sub-9-hour finish, and I finished in 8:19.
But it was very, very hard. I could barely walk after the race, and my body was in total shock. I got a bit ill after the race, too.
But I recovered pretty quickly. I think I have a genetic advantage when it comes to recovery. Even when I think back to growing up… I never really got ill, had no childhood sicknesses, never broke any bones. In fact, I only got chickenpox last year.
I think it's something that has really helped me be a good athlete.
RW – So in 2015, you broke the three-hour mark for the marathon in Nice (2:59), and then started training with [former Comrades champion] Nick Bester for Comrades 2016?
GS – Yes, I saw massive jumps in my performance. I was still working full-time and doing two sessions a day. I didn't have enough reason to leave my job, but there was something in me that knew I could improve if I went full-time as an athlete.
But it's a very difficult decision; and I think that time was probably the toughest, balancing both. But it made me stronger.
In the build-up to Comrades, I took unpaid leave to go and train in Graskop for three weeks. I managed to finish 14th at Two Oceans and 14th in Comrades, in 7:08.
To be honest, I was a little disappointed, because I wanted to get into the top 10 at Comrades. I took more than an hour off my time though, so I shouldn't have been.
RW – 2017 was probably your breakthrough year, finishing fourth at Comrades. Suddenly, everyone started taking notice.
GS – Yes, Comrades in 2017 changed everything. I got a stress fracture in March, and couldn't race Two Oceans. It really put me out of training, and I was 100% convinced I wouldn't make it to Comrades.
I only started running again in April, and basically had a month to go from zero to being ready for Comrades. But I tried to maintain fitness and did a lot of cross-training, including the pool; and I did a lot of hiking in the Alps, where we have a house.
I ran a 32-kay a month before Comrades, and then phoned Nick to say I would run but had no idea how I would do. He then gave me a three-week crash-course training plan, including one more 42km and some track sessions.
We had nothing planned. I didn't have fitness, but I did have freshness; and I just had a great day, finishing fourth (in 6:45). A lot of people say that fourth and 11th are the worst places to finish, but it meant the world to me. In the days after the race I could hardly sleep, I was so excited.
I started believing in myself. I started to think about what would happen if I did train well.
RW – So in 2018, you had your first big win at Two Oceans; you officially arrived as SA's next running star.
GS – I ran the 2017 Valencia Marathon in 2:37, and felt that I could have gone quicker. I took a huge chunk off my personal best and had a big training block, and my confidence was up.
The last time I'd run Oceans, in 2016, I finished 14th, so only a few people tipped me as a winner. I trained on the route, and focused on improving my downhill running.
I had a race plan, and I knew that if I went over Constantia Nek in the lead, no one was going to catch me. And that's exactly what happened. I took the lead up Constantia Nek, and I decided I wasn't going to let anyone pass me after that.
It was the hardest 6km of my life. I dug deeper than I'd ever done before. I was racing others, and not just myself. Winning was massive for me.
RW – You've achieved a huge amount in a relatively short running career. Looking at the next 10 years, what would you like to tick off?
GS – There's still a long list. I see myself running Comrades for as long as my body allows, but I also want to do an Ironman triathlon, and there are some amazing Alpine mountain races that I'd love to try. Events like UTMB and the Jungfrau Marathon.
RW – Any long-term plans for a family?
GS – I think Duncan and I are open-minded. We love where we are right now and will continue to enjoy it.
Gerda Steyn is an inspiration to so many runners. We love watching her smiling face during a race and her humble wins. We look forward to seeing what she can do in 2021!
You can follow Gerda Steyn on Twitter: https://twitter.com/gerdarun (@gerdarun)
or on Instagram https://www.instagram.com/gerdarun/ (@gerdarun).