Africa Marathons is extremely proud and excited to announce that we have been re-appointed as an Official Comrades Marathon Tour Operator, for a further two years. We cannot wait to take Team Africa Marathons to South Africa for Comrades Marathon 2021 and 2022.
Comrades Marathon 2020 would have been an epic event and we had a wonderful team of runners who entered Comrades. These runners entries are secure for 2021, and we still have a few spots available for Comrades Marathon 2021.
What does it mean to be an Official Comrades Marathon Tour Operator?
Running travel companies like Africa Marathons, have to apply to the Comrades Marathon Association (CMA) to be awarded official status. Once the CMA has the full confidence in a company and the Comrades board has approved them they are awarded the Official Tour Operator status. There are currently only 9 Official Tour Operators in the world and we are the only UK Official Tour Operator. We do welcome all international entrants.
We offer a full travel package – Guaranteed Comrades race entry, accommodation, transfers, team meals, support team and much more once in South Africa to make the whole experience as pleasurable and smooth as possible. We can also assist with international flights bookings and additional arrangements pre / post-race like safaris.
Team Africa Marathons offers a true running experience and so much more. Why not join us?
Comrades Marathon Race The Legends Virtual Race
We would also like to take this opportunity to thank all the runners that entered Comrades Race The Legends (#RaceTheLegends) as part of Team Africa Marathons. We had more than 100 entries and this also showed the Comrades Marathon Association that we are serious about our future partnership with them. So thank you to everyone involved.
Looking forward to Comrades Marathon 2021
Comrades Marathon 2021 is set to take place on Sunday 13 June 2020. We will, of course, keep everyone informed, as the coronavirus landscape changes over the next few months. Next year sees the 95th running (Down Run) on the 100th year anniversary of the Comrades Marathon, so it is a big one you definitely don't want to miss out on. For more info, you can visit our Comrades Marathon page or click the button below to send us a message about entering and the travel itinerary.
Comrades Marathon training
There are just over 350 days to the start of Comrades 2021, so it leaves runners with enough time to prepare. If you are wondering how to approach your training, then look no further; Africa Marathons has its own running coach in Nick Bester and he has oodles of Comrades experience.
To find out more about our coach Nick and his Comrades Marathon experience here. Nick has also just stepped into full-time coaching, so he now has all his focus on helping runners. You can get hold of Nick in his bio below.
We look forward to welcoming more runners along our journey to Comrades Marathon 2021 and 2022.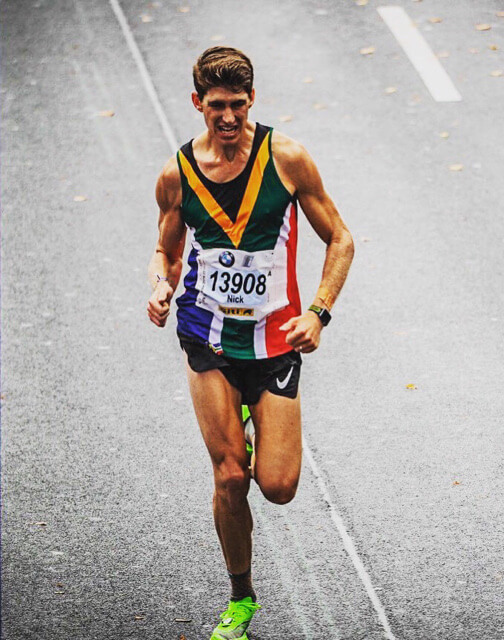 Nick Bester
Africa Marathons Online Coach
Nick is currently a 29-year old South African runner living in London where he's been based for the last 3 years.
He initially got into running by committing to do the Comrades Marathon in 2014. After finishing in a time of 7h 14min and managing to get a silver medal in his first Comrades (down run), he wanted to train a little harder and have one more years' experience to tackle the Comrades Marathon (up run). He took this challenge on and completed his second Comrades (up run) in a time of 6h 58min. The challenge wasn't over and he knew he could get faster so he was back the following year (down run) and finished in a time of 6h 28min, finishing 73rd overall.
Comrades is in his blood and Nick is planning to be back to run the 100th year run in 2021. He has completed many other international marathons and is aiming for the Abbots Medal by completing all six majors.
His last 23 marathons have all been sub-3 hours with his most recent Berlin Marathon finish a very respectable 2h 29min. You can catch all his running tips and coaching insights right here on Africa Marathons or visit his website on Just a little Bester. He's excited and looking forward to working with the Africa Marathons team on achieving each runner's goals. Feel free to email him on [email protected].